Samsung Galaxy S23+ review: Breaking down the pros and cons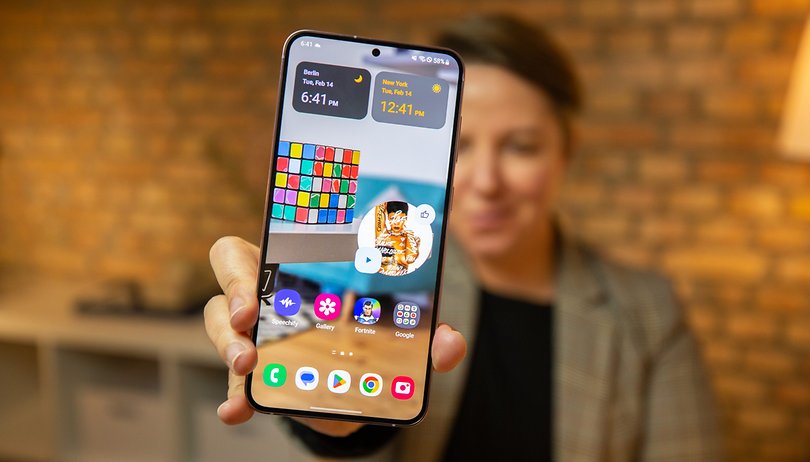 What are your requirements for a smartphone? A high-quality display? Fast performance? Long battery life? The new Samsung Galaxy S23+ offers all of these features, and more. It's also priced similarly to its predecessor. We were fortunate enough to test this excellent device, and I am here to tell you who it is designed for.
Good
Great workmanship and trendy design

Competent performance

Excellent camera system

Long battery life
Bad
A lot of unwanted, pre-installed apps

Fast Charging still lags behind the competition
Samsung Galaxy S23+: All deals
Samsung Galaxy S23+ release date and price
Before delving into the benefits and drawbacks of the Galaxy S23 Plus, let's discuss its price and availability. Fortunate for US customers, Samsung has maintained the pricing of both the Galaxy S23+ at a constant level. As a result, the larger S23+ starts at $999.
| | | | | |
| --- | --- | --- | --- | --- |
| Price (MSRP) | 128 GB | 256 GB | 512 GB | 1TB |
| Samsung Galaxy S23+ | - | $999 | $1,099 | - |
Since February 17, the devices have been available in stores, and customers can also trade in their old phone taking advantage of Samsung's Trade-in Program. To find more deals on the Galaxy S23+, I recommend checking our Deals page from time to time as you may come across the best promotion to purchase your new smartphone.
Design and display
The design of the Samsung Galaxy S23+ marks a departure from its predecessors, featuring a camera island in the style of the Ultra series, with individual lenses integrated into the back. While the device retains the same display size and casing format as its predecessors, there have been notable improvements compared to the previous year's models.
---
Pros:
Great workmanship and clean design

.
Gorilla Glass Victus 2 in front and back.
More components made of recycled plastic/glass.
IP68 certification.
Cons:
---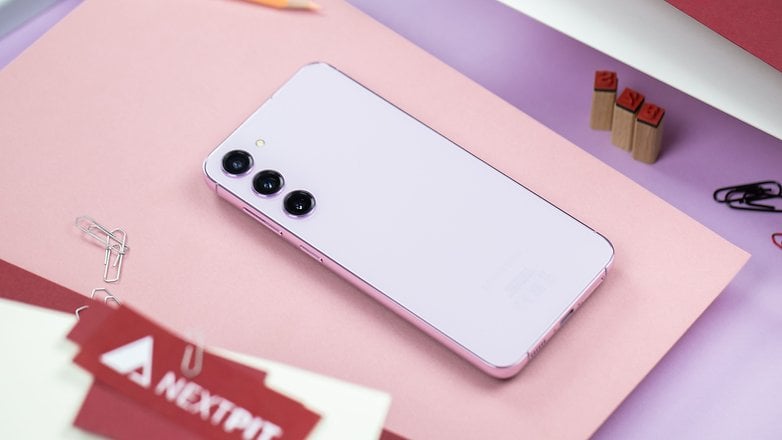 For the back and bezel of their latest device, Samsung has once again opted for a combination of glossy edges and a matte finish. The back now features the new Gorilla Glass Victus 2, which not only provides screen protection for the AMOLED panel, but is also made with 22% recycled materials according to Samsung. Yes, the S23+ contains twice as many plastic components made from recycled materials as its predecessor.
The device's size makes it easy to use with just one hand, and the Galaxy S series continues to impress with its combination of stylish design and practicality. Our review unit, which comes in Lavender, boasts a glossy finish that does not easily collect fingerprints after use. As with previous generations, the Galaxy S23+ also meets the IP68 protection standard.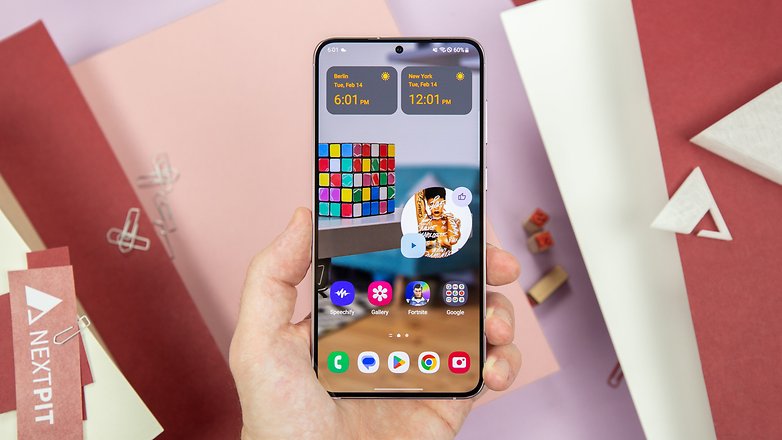 Aside from durability and more sustainable materials, the Samsung Galaxy S23+ has the same display as its predecessor. It measures 6.6-inches with a resolution of 2400 x 1080 pixels, 120 Hz refresh rate and 240 Hz touch sampling rate. However, don't misunderstand me, the display is still outstanding, particularly when consuming content such as gaming and streaming videos.
In summary, it is evident that Samsung has achieved a level of design and display quality that does not require a major overhaul, only minor tweaks to further improve it. Additionally, the company faces little competition in the flagship market, which does not yet necessitate pushing display advancements to the next level.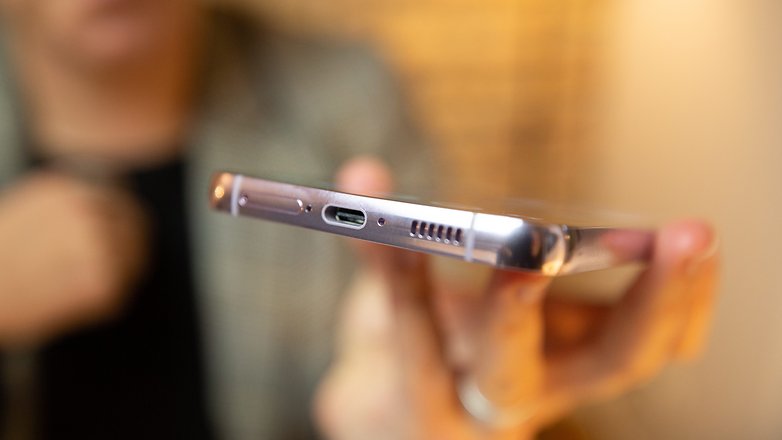 Samsung Galaxy S23+ software
The Samsung Galaxy S23+ runs on One UI 5 based on Android 13, which has already brought some innovative features to Galaxy smartphones. With this version of the software, Samsung has finally taken ownership of Material Design, resulting in a user interface that is simple and more intuitive to use. In addition, the company promises four years of system updates and five years of security patches.
---
Pros:
An up-to-date software

.
Four years of system updates.
Five years of security patches.
Great integration with Samsung's ecosystem.
Cons:
The software contains a lot of unwanted, pre-installed apps.
---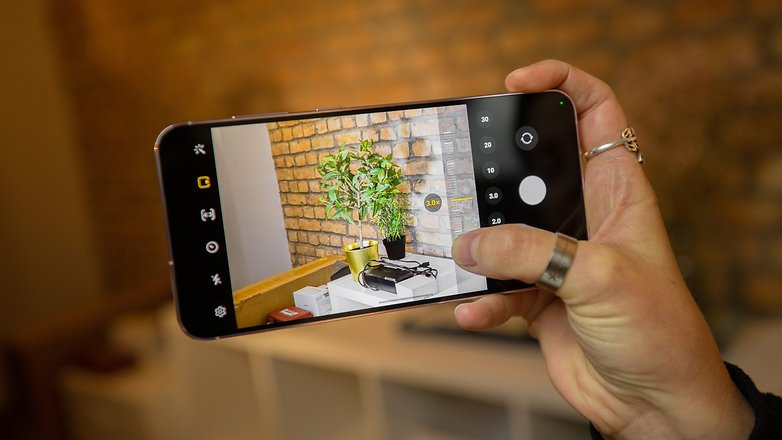 My favorite mobile operating system, after iOS, is One UI based on Android. In recent years, both operating systems have become increasingly similar, with Apple moving closer to Android and Samsung moving closer to Apple. Some examples that come to mind are the lock screen customization, as well as the Focus Mode and Routines features. Additionally, Apple ID and Samsung Account now serve very similar roles in both ecosystems. Given that both companies are leading the market, it seems they are doing an excellent job in the software area.
At NextPit, we have already reviewed One UI 5 and have a significant amount of software tips for Galaxy devices. I recommend reading both articles to gain a better understanding of Samsung's software experience. In this review, though, I will be sharing some visual impressions of the user interface that you can expect on the Galaxy S23 Plus.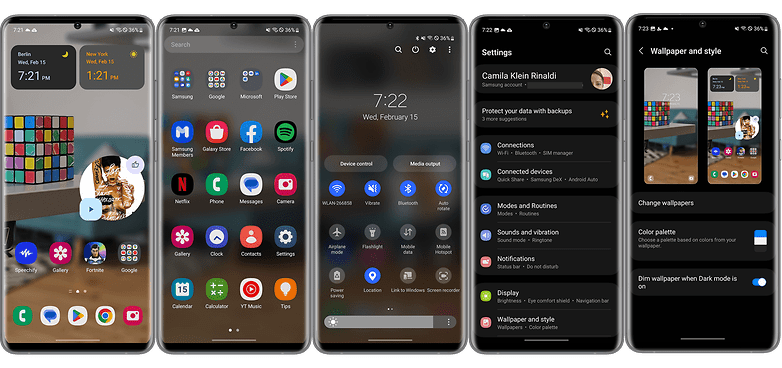 It is worth noting that Samsung has included numerous pre-installed apps in the Galaxy S23+. While these apps can be uninstalled if not needed, such as Netflix, Spotify, Facebook, LinkedIn, and Microsoft Office, they may still be deemed unnecessary by some users. For those individuals, having apps installed on their new phone that they have no interest in can be quite frustrating.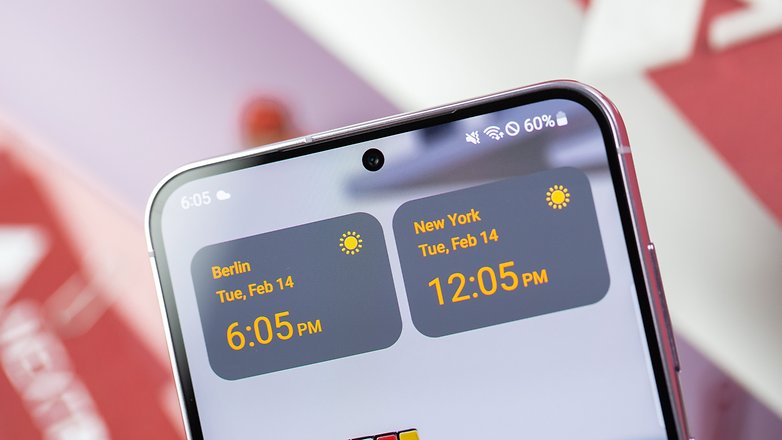 Samsung Galaxy S23+ performance
The new Samsung S23+ is powered by the Qualcomm Snapdragon 8 Gen 2 processor with the exclusive "For Galaxy" version. It boasts a higher clock frequency for the main core compared to the standard 8 Gen 2. Samsung claims that the CPU performance has increased by 34% and GPU performance by 41% compared to its predecessor. While our benchmark tests have mostly confirmed the improved performance, the question remains whether we will notice this enhanced performance in our everyday usage.
---
Pros:
Reliable daily performance

.
UFS 4.0 storage technology support.
Cons:
---
It does! The Galaxy S23+ is a reliable phone when it comes to performance. Last year, we tested the Exynos variant of the Galaxy S22+ and we did notice a difference, not only in the chart below but also while using the phone daily, particularly when it comes to battery life. This phone is true to the description of a flagship, with features ranging from a biometric sensor integrated into the display to multitasking capabilities. But...
Samsung Galaxy S23+
(Snapdragon 8 Gen 2 for Galaxy)
Samsung Galaxy S22+
(Exynos 2200)
OnePlus 11
(Snapdragon 8 Gen 2)
Xiaomi 13
(Snapdragon 8 Gen 2)
Apple iPhone 14
(A15 Bionic)
Google Pixel 7
(Tensor 2)
3DMark Wild Life
3DMark Wild Life Stress Test

Best loop: 12958
Worst loop: 8047

Best loop: 7547
Worst loop: 4922

Best loop: 12784
Worst loop: 4416

Best loop: 12914
Worst loop: 10432

Best loop: 9761
Worst loop: 8321

Best loop: 6559
Worst loop: 4772

Geekbench 5
... The benchmark table above shows that Xiaomi's hardware integration is smoother, despite Samsung's claim that the Qualcomm SoC has a special Galaxy version. I'm highlighting this based on the difference between loops in the 3DMark benchmark, that suggests that the Galaxy S23+ has only 62.1% stability across all loops of the test, which could be due to factors such as thermal throttling, power management, or background processes. However, this is only evident in the benchmarking results. In contrast, OnePlus continues to struggle with performance consistency, which are areas where Apple and Google are excelling.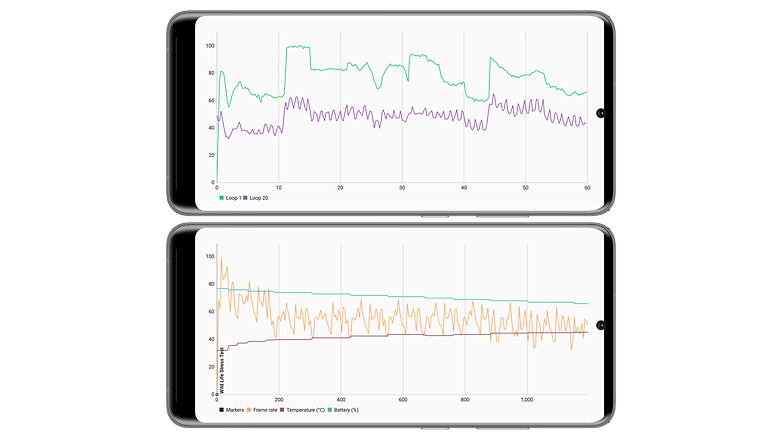 Finally, for individuals who fall in the middle of the S23 and S23+, Samsung offers only the S23+ in 256 GB or 512 GB capacity that supports the faster UFS 4.0 storage technology. But why is this an important difference? In simpler terms, UFS 4.0 is faster and more power-efficient than UFS 3.1, with better error correction and support for advanced features like Hybrid Sleep mode and Write Booster. This means that devices with UFS 4.0 storage will likely offer better performance and longer battery life compared to devices with UFS 3.1 storage.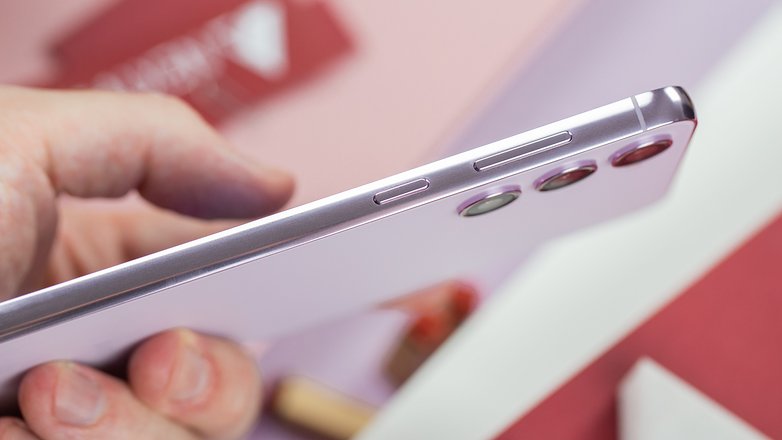 Samsung Galaxy S23+ camera
When it comes to smartphone cameras, the Samsung Galaxy S23+ maintains the same setup as its predecessor, including a 50 MP main camera, a 12 MP ultra-wide-angle camera, and a 10 MP telephoto camera. However, the device has seen significant improvements in terms of its front-facing camera and shooting modes compared to the previous model.
---
Pros:
A consistent and versatile camera system

.
Selfie camera now takes 12 MP shots.
Shoots RAW photos at 50 MP resolution.
Cons
---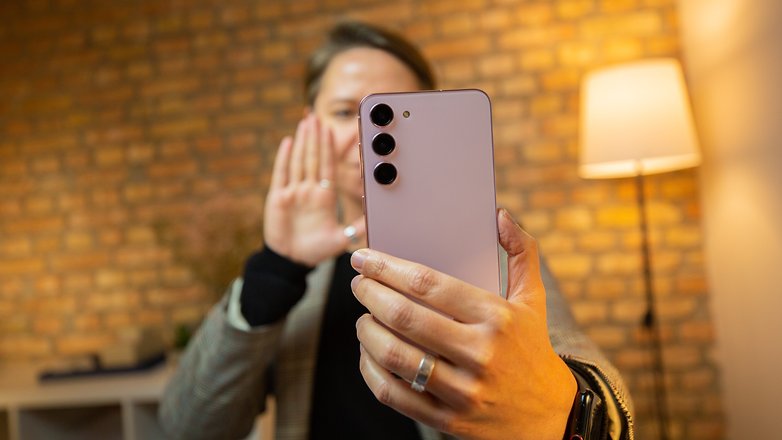 What can you expect from a camera that has already been used in previous devices? In the case of the Galaxy S23+, you can expect impressive results in both daylight and artificial light conditions. Even when faced with overcast or winter landscapes, the device turned out to be an excellent companion for capturing photos.
While the Galaxy S23+ is a flagship device, it doesn't necessarily stand out from its competitors in terms of its 3x telephoto lens. In fact, even the Google Pixel 7 (review) is capable of producing similar quality images without having a 3x optical zoom lens. However, when compared to the Apple iPhone 14 Plus (review), the additional camera on the S23+ does offer a distinct advantage. It is important to note that when there is sufficient light, the 10x digital zoom can produce vibrant and sharp images.
Samsung has introduced several new features to this year's Galaxy S23+ model, such as the astrophotography mode and Expert RAW feature, which used to be a separate app but now come pre-installed on the device. Additionally, the S23+ now supports RAW shots at the full 50 MP resolution. However, it's worth noting that the resulting file sizes are quite large, with each picture taking up nearly 150 MB of storage.
Note: While we were unable to test the astrophotography mode (a.k.a. Hyperlapse 300x) due to weather conditions, we are thrilled to announce that a special article on this feature is currently in the works! Stay tuned for an in-depth look at how the Galaxy S23+ performs under the stars.
I must say I'm extremely pleased with the results I've gotten from the 12 MP front-facing camera. Thanks to the larger sensor and the extra two megapixels compared to the S22 models, the image quality is truly outstanding. The in-depth processing on Portrait pictures is much improved, with better edge detection that respects the person or object in focus. The night shots are also much brighter, and it's remarkable how Samsung can deliver such high contrasts even in low light conditions.
The S23+ offers 8K video recording at 30 fps resolution, but although the video quality is impressive, the bokeh effect in portrait videos doesn't quite match up to the iPhone's Cinematic Mode. Furthermore, unlike the latest iPhone models, there is limited capability to edit videos post-capture.
Samsung Galaxy S23+ battery
The battery capacity of Galaxy S23+ has increased by 200 mAh, but Samsung's slow progress in fast charging and wireless charging puts them disadvantaged compared to Chinese competitors. However, one could argue whether this is a negative development.
---
Pros:
A bigger battery and a more decent autonomy

.
Wireless charging in onboard.
Cons:
Fast Charging still lags the competition.
No power adapter included.
---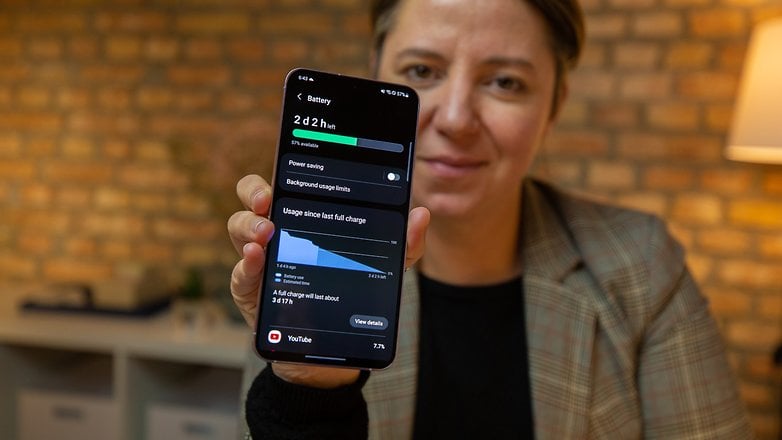 As per the PCMark benchmark used for device comparisons at NextPit, the battery runtime of the new Snapdragon 8 Gen 2 is 15 hours and 21 minutes. However, in daily usage, the device lasted even longer, running for nearly two full days. This is one of the categories where the S23+ outperforms the smaller version, as the Galaxy S23 only managed a battery runtime of 13 hours and 44 minutes.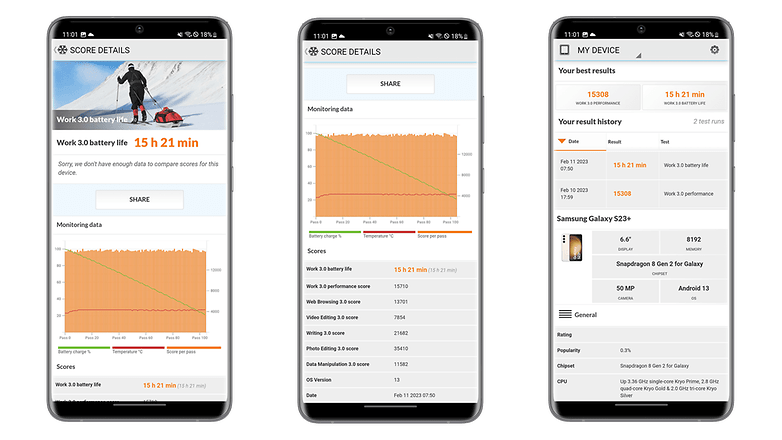 Despite the availability of wired, wireless, and reverse-charging options, Samsung is recognized for prioritizing longer fast charging times to extend the lifespan of its smartphones. The S23+ charges at up to 45 watts, just like the new S23 Ultra. Additionally, customers will need to purchase a charging adapter separately for $50 as it's not included in the box.
Samsung Galaxy S23+ technical specifications
Technical specifications
Device
Image
Screen
6.6-inch dynamic AMOLED display, 2,340 x 1,080 pixels (FHD+) at 425 ppi
120 Hz refresh rate, touch response 240 Hz (Game Mode)
Corning Gorilla Glass Victus 2
Dimensions
146.3 x 70.9 x 7.6 mm
Weight
168 g (incl. battery)
SoC
Qualcomm Snapdragon 8 Gen 2 for Galaxy (4 nm)
Memory
8 GB LPDDR5X RAM
256/512 GB UFS 4.0 ROM
Software
One UI 5.1 based on Android 13
Expandable memory
No
Main camera
50 MP | f/1.8 aperture | 1/1.56 inch | equivalent focal length 24 mm | viewing angle 85°
OIS, PDAF, Dual Pixel
Ultrawide-angle camera
12 MP | f/2.2 aperture | 1/2.55 inch | equivalent focal length 13 mm | viewing angle 120°
Super Steady Video
Telephoto camera
10 MP | f/2.4 aperture | 1/3.94 inch | equivalent focal length 70 mm | 3x optical zoom | viewing angle 36°
OIS, PDAF
Selfie
12 MP | f/2.2 aperture | equivalent focal length 26 mm | viewing angle 80°
PDAF, Dual Pixel
Video
8K @ 30 fps | 4K @ 30/60 fps | 1080p @ 30/60/240 fps
Super Slow Motion 1080p @960 fps
Stereo, EIS
Audio
Stereo Speaker Tuned by AKG
32-bit / 384 kHz
Battery
4,700 mAh
Charging via cable
45 watts
Wireless charging (Qi)
15 watts
5 watts (reverse)
IP certification
IP68
Connectivity
802.11 a/b/g/n/ac/6e 2.4/5G, Wi-Fi 7, 5G,
Bluetooth 5.3 (aptX HD, aptX, LDAC, LHDC, AAC, SBC),
GPS (dual-band), GLONASS, GALILEO (dual-band), Beidou
USB Type-C (3.2)
NFC, UWB
Colors
Phantom Black, Cream, Green, Lavender, Graphite, Lime
Final verdict
When rumors surrounding the Galaxy S23 series began circulating, it became apparent that Samsung wouldn't stray too far from last year's offerings. However, this didn't matter as the S series was already excellent in 2022. The Plus version's enhancements are particularly welcome since the price remains the same as last year. While the phone's features, display, and main camera hardware haven't undergone significant evolution, it still has more pros than cons.
I recommend that Samsung fans who already own a Galaxy S22 skip this generation, but for all other fans, I suggest buying it. With powerful hardware, new software, reliable camera, and excellent battery life, the Samsung Galaxy S23+ is an exceptional flagship. In conclusion, the phone offers many more benefits than drawbacks, making it an excellent choice for Android enthusiasts.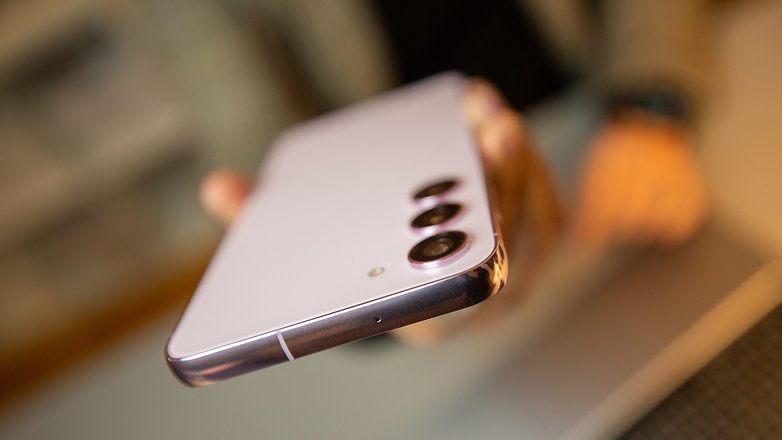 While Samsung, as well as Apple, Google, OnePlus, and Motorola, could do more, this year isn't really one for major innovations in the flagship smartphone space. Instead, it's a year for ensuring hardware and software consistency. For this reason, upgrading your phone this year may be the best decision. Hence, Samsung receives a four-star rating, although a rigorous one.