Up to 40% Off: Check Ugreen Chargers & Docking Stations Price Drop!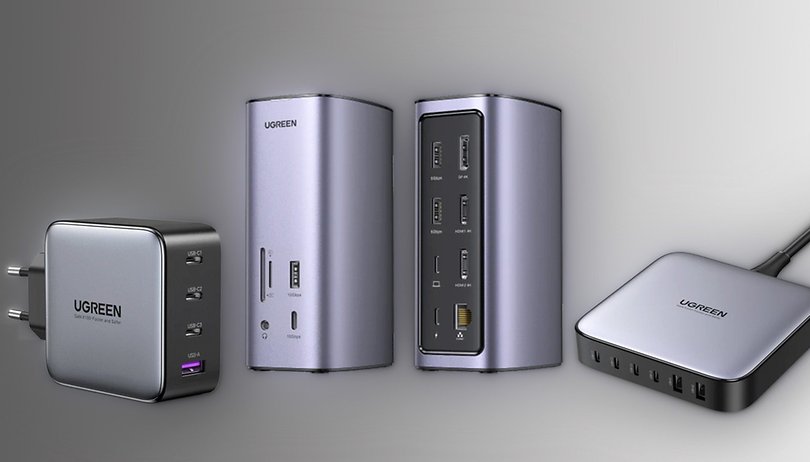 Many smartphone manufacturers (hello there, Samsung!) no longer ship chargers with their latest smartphones. If you are looking for a suitable power supply, you have a huge selection to choose from over the Internet. Premium accessories manufacturer Ugreen currently offers great discounts on its own store.
Thanks to one-day battery life in devices, chargers are among the most frequently used gadgets. Hence, it is worthwhile to choose quality over price. With the presence of multiple ports, advanced chargers not only reduce cable clutter but also charge faster and safer with GaN technology. If you are looking for a new charger or a USB-C docking station, you should not miss out on the following Ugreen offers.
For a limited time only, you can get discounts on the Ugreen Nexode 100W USB-C GaN charger, Ugreen USB-C docking station, and the Ugreen Nexode 200W USB-C GaN charger. We took a closer look at the offers and tell you for whom the deals are really worthwhile—and how much you can save in each case.
Ugreen deals with up to 40 percent discount
Ugreen Nexode USB-C GaN Wall Charger 100 W
The 100 W Ugreen Nexode USB-C wall charger is the first on our list. This charger offers four different USB ports. Three USB-C ports and one USB-A port are available for all your charging needs. You can choose between Quick Charge 4.0 and Power Delivery 3.0 for the charging standards, which makes the charger compatible with most current devices, from MacBook Pro to iPhone 14 and Android smartphones.
In addition to the four USB ports and high charging power, the charger also features GaN technology which translates to better energy efficiency and less power dissipation in the form of heat. Normally, the Ugreen Nexode 100 W costs $79.99 but thanks to the discount, you'll only have to fork out $44.49. So if you're looking to tidy up your power supply mess, here's your chance.
Ugreen USB-C docking station
If you want to be neat with your notebook cables, Ugreen also has something in store for you. The USB-C docking station has twelve (!) different ports. These are:
2 x HDMI ports
1 x DisplayPort
1 x PD-3.0 100 W
1 x USB-A-3.2
1 x USB-C-3.2
2 x USB-3.0
1 x Ethernet port
1 x SD/TF card slot
1 x 3.5 mm AUX port
This means you can charge all your devices using one station.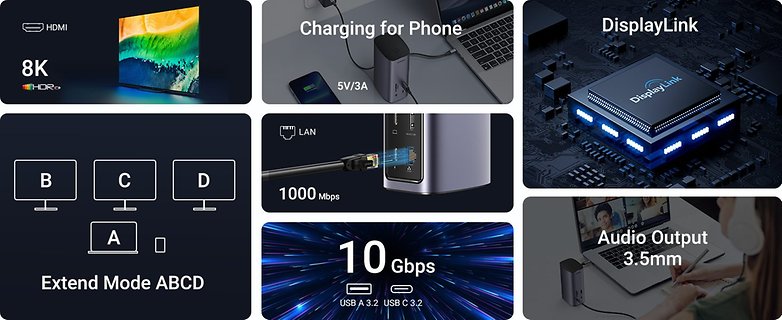 The HDMI 2.0 ports support up to 8K at 30 Hz on Windows and 4K at 60 Hz and macOS. If you want to use multiple screens, the docking station is definitely worth a look. If you want to charge your laptop, you can use the docking station's PD 3.0 port at up to 100 watts. The two USB ports have a transfer speed of up to 10 GBit/s to transfer your data quickly.
The docking station is compatible with all popular Windows and macOS systems and is perfect as a multi-display hub. DisplayLink technology allows you to connect up to three displays to your MacBook, while the docking station uses an integrated GPU to prevent any image loss. Normally, the station would set you back by $329.99 but for a limited time only, you'll only pay $189.99.
Ugreen Nexode USB-C GaN Charger 200 W
The larger version of the Nexode charger provides a whopping charging power of up to 200 W. Additionally, the number of available outputs increases to four USB-C ports and two USB-A ports. However, you should make sure that an output power of 100 W is available at the first two USB-C ports. You can see how the power output changes when using several ports simultaneously in the following overview.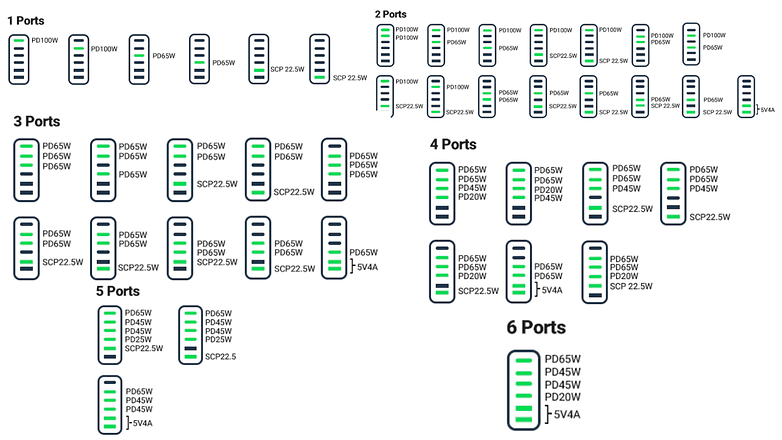 The new Nexode charger uses GaN-II technology and adaptive PPS charging to charge your devices even faster. In addition, the charger is also compatible with the most popular devices such as the MacBook Air 13" or the Samsung Galaxy S23 Ultra. Normally, the multi-adapter will cost $199.99, but it is now on sale for $129.00 a pop.
These offers from Ugreen are valid for a short time only and are suitable for power users among you who want to finally put an end to the tangled mess on your desk.
What do you think of these offers? Have you used Ugreen's devices before? Please let us know in the comments!