iPhone 5: Not a Success Story?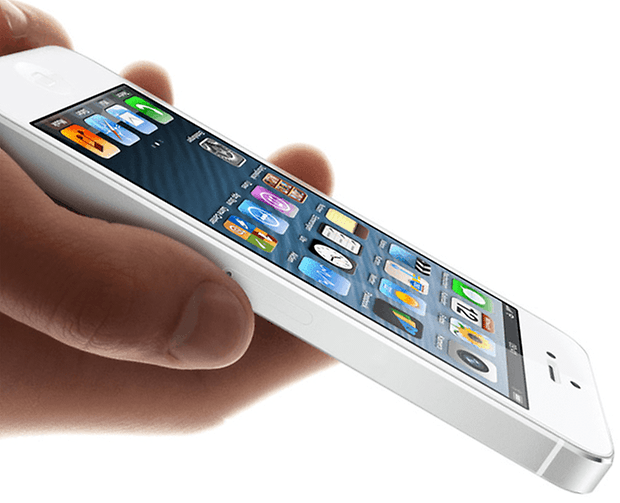 With the iPhone 5, Apple has once again claimed new sales records. But the numbers tell a different story. Investors are worried that Apple may be on the decline.
"Incredible Demand!"
Last Friday, the official word from Apple was glowing. The company was claiming that the demand for the iPhone was once again exceeding everyone's wildest expectations.
"Demand for the iPhone 5 is incredible and we are working hard to get an iPhone 5 into the hands of every customer who wants one as quickly as possible," said Tim Cook.
I know this word from last year's launch of the iPhone 4S. And actually the iPhone 3GS , as well. Apple is fond of calling their releases "incredible." And perhaps it is usually warranted: compared to just about every other smartphone out there, the iPhone always sells like hot cakes. But perhaps some healthy skepticism is needed here.
"Only" 5 Million Sold?
Some analysts were very disappointed by the iPhone 5's sales over the first three days after its release. Gene Munster of the investment bank Piper Jaffray said he was actually expecting six to ten million units to be sold.
Initially, I was surprised that any analyst would be disappointed when Apple sold nearly 1 million more units than last year's release of the iPhone 4S.
Now, of course you could say that these analysts just made a mistake, as anaylsts tend to do. At least, this is the popular narrative: the analyst, an idiot in a tailored suit, who probably still owns a Blackberry, is inept at making forecasts.
But these are highly paid professionals who know how to analyze data. It is worthwhile to take a look at Munster's numbers.
First of all, Munster has examined how strong sales have been during the first weekends of iPhone launches in recent years: from the release of the iPhone 3GS to the iPhone 4, we see a growth of 70%. Jumping from the iPhone 4 to the iPhone 4S, the growth was as high as 135%. This is made all the more tangible when we look at the numbers:
iPhone 4: 1.7 million units
iPhone 4S: 4 million units.
So, 2.3 million more people bought the iPhone 4S than the iPhone 4. Assuming the growth stays constant, we'd expect the iPhone 5 to sell 6 - 10 million units, which is actually still a pretty conservative estimate! Viewed from this vantage, the sales numbers of the iPhone 5 so far are quite disappointing. Of course, 5 million sounds like a nice number, but the growth curve seems to have slowed. This graph from Business Insider says it all: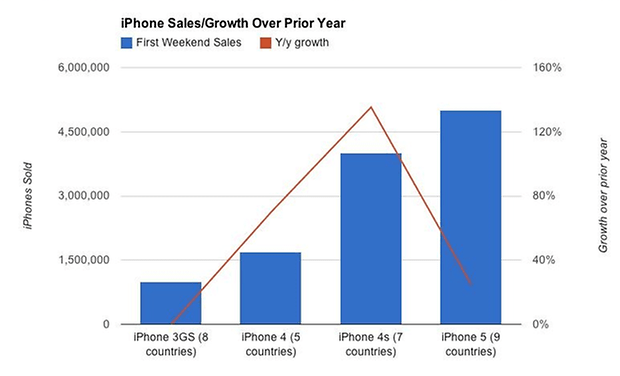 (c) Businessinsider
But there's another factor to consider here; the number of countries in which each version of the iPhone was made available. In 2011, the iPhone 4S was available in 7 countries; this year, the iPhone 5 was available in 9.
New to the exclusive club of global release countries are Singapore and Hong Kong. Now one can expect that these are places where the iPhone would be in hot demand. More countries = more potential buyers = more demand = more purchases. Right?
But even here Apple's results are below expectations, which can be clearly seen when the number of models sold is divided by the number of countries in which the model was offered. We can thus see how many units were sold per country. Again, here's Business Insider's graph: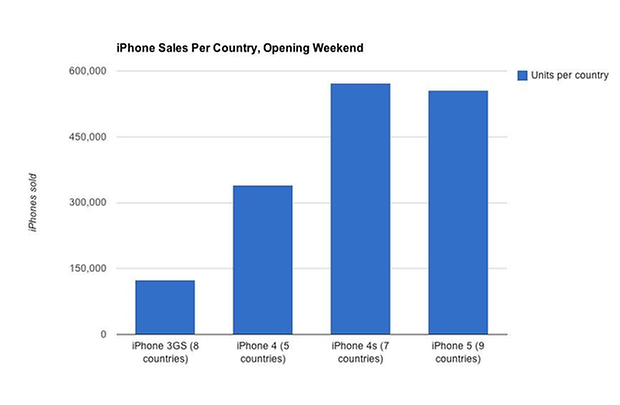 (c) Businessinsider
So, Apple's growth has actually been negative.
A Growth Limit
But maybe a company like Apple, at a certan point, reaches a natural threshold that cannot be exceeded. After all, the logistical effort required by a company to deliver a device like this at the same time in 9 different countries cannot be overestimated. And as the list of countries grow, so does the logistical nightmare of providing all potential customers with new and shiny phones.
And Apple is highly dependent on its suppliers. The company produces nothing itself, everything is created and screwed together in Southeast Asia, including the 5 million display components, 5 million flash memory chips, 5 million camera lenses, etc. If a single link in the supply chain isn't working perfectly, there are delays.
Then we must also understand the pre-orders, as Forbes recently wrote: the overwhelming pre-orders could be the reason behind the iPhone 5's disappointing sales. Apple's sales figures for the opening weekend include only those units that were sold into partner channels, retail stores and directly to pre-ordering customers. Due to "overwhelming demand" Apple may have managed to ship a limited number of these phones due to supply constraints. Apple doesn't record sales until the customer has received the device.
Disenchanted
Still, we're left with the question: has interest in Apple's iPhone decreased or is the newest model simply a victim of an overwhelmed supply chain? This is a question that will be answered in the coming days, as the iPhone 5's release spreads to 22 more countries and the sales figures will then speak for themselves. But whatever the eventual outcome, investors are at least temporarily disenchanted: Apple's stock fell by 2% on Monday.