Samsung's Galaxy Camera Hands-On: Innovative, Fast and Stylish An Android camera? I was initially suspicious. Do we really need such a thing? When I first heard about the Nikon Coolpix S800c, it just seemed like a desperate gimmick for a camera manufacturer to stay relavant in our smartphone-addicted day and age. But then I actually tried Samsung's Galaxy camera and I'm convinced this device is the future. Faster than a speeding bullet with a gorgeous display, a range of helpful features and a truly fantastic lens, the Galaxy Camera truly charms.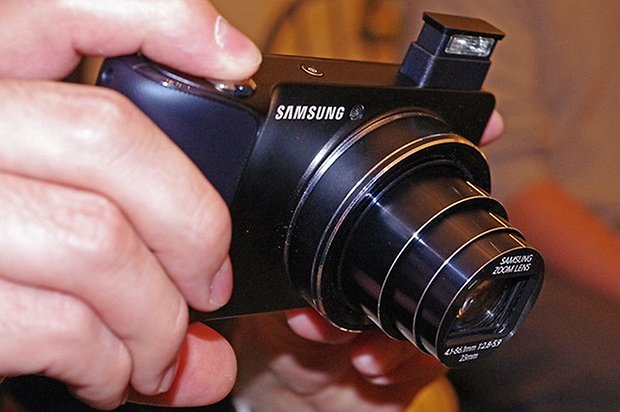 At 308 grams, this is a solid-feeling camera, but it's still pocket friendly. It's also got an absolutely stunning screen round-back – at 308 dpi, it glows with crisp, well-contrasted colors, and has nice viewing angles. Along with Android 4.1 and a lightning fast 1.4 GHz quad-core processor, you get the feeling that you're not just holding a camera, but also one of the best smartphones on the market today. The fact that it comes not just with WiFi but 3G or 4G radios on board only adds to that feeling feeling (not that you'd ever want to send HD photos over 3G, but it's an option).
A Camera with All the Bells and Whistles
Once you activate the camera, the fun really begins. A 21x zoom extends from the device like a periscope on a submarine. The length of the lens extends up to 23 millimeters and offers a relatively bright aperture of up to 2.8F. Light sensitivity covers a range from ISO 100 to ISO 32000. The flash bulb which extends from the top of the camera is far enough from the lens that red eye should occur relatively infrequently.
In fact, even in automatic mode with no fiddling whatsoever, the device shoots surprisingly good images. In low light conditions, we noticed fairly low amount of noise and accurate color reproduction. Autofocus almost always chose what we wanted to highlight. We were also able to record full HD films with a decent 30 FPS (frames per second), saveable on either the 8GB of internal memory or on an inserted microSD card.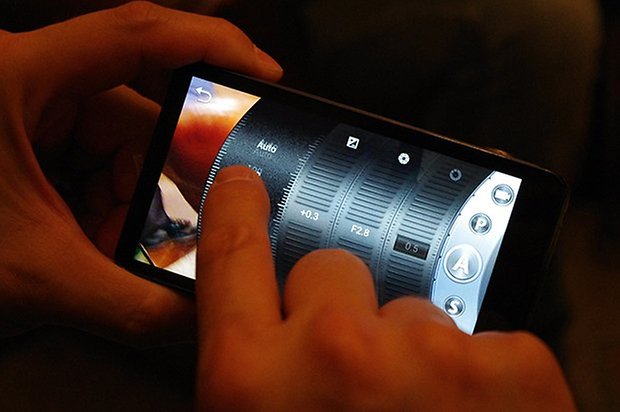 Image quality and autofocus are only half the battle, though. Without well-designe menus, you won't be able to get the best out of the optics you're holding. But here, too, Samsung has delivered. Operating the Galaxy Camera is quite simple. Right of the display shows four fields that offer the user the possibility to choose between automatic mode, quick settings, expert mode and Smart Pro, which offers a range of default settings for different scenarios. I haven't been able to try out this feature, but I hope to soon.
Another thing I loved was the care with which Samsung built these menus – they were not only intuitive, but also beautiful. You can adjust settings in expert mode via virtual lens rings. This not only looks stylish but is also extremely practical. Lazy folks can even trigger essential features like zoom and trigger by voice!
Sharing is Caring
Of course, the main benefit to having an Android OS baked into your camera is the range of options you have when it comes to sharing your pix. Samsung has bent over backwards to provide Galaxy Camera owners with every possible way to share, share, and share some more. Via Auto Cloud Backup, you can upload every photo to Samsung's AllShare cloud and make them available to others. The share-shot function allows you to share images automatically after snapping them via social networks or e-mail. Or a bump is all it takes to share photos from the camera with other NFC-enabled Samsung devices.
You can download all the apps you want to this camera via the Google Play store (or Samsung's App Store), but photo apps are naturally the most useful. Samsung's pre-installed a few here, including Photo Wizard and Movie Wizard, with which you can edit photos and videos directly on the large 4.8-inch screen. And there's even a Smart Content Manager to organize your photos in pre-specified folders and delete the bad photos automatically.
We'll only be able to test all of these functions if and when the Samsung Galaxy Camera lands in our offices for a few days but we like what we see so far. We don't have any word on pricing yet, although a Samsung rep told us it would cost around as much as a Galaxy S2 currently costs ($450). We're expecting the device to debut sometime in October.