Hands-On with Xperia T and V: Has Sony Dreamed Big Enough?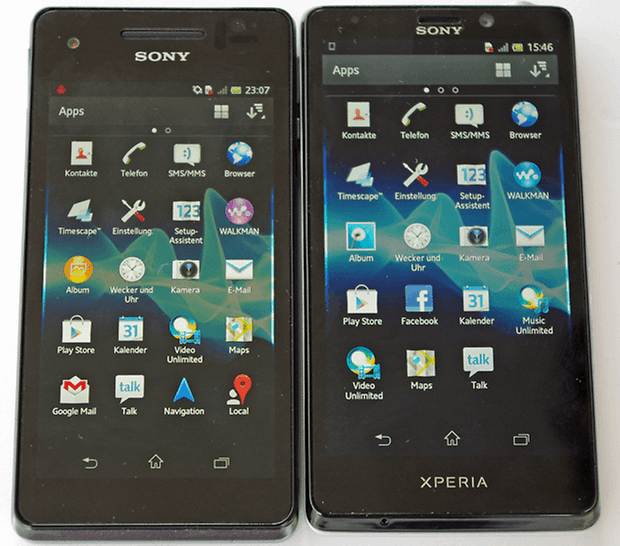 We haven't heard a peep from Sony's Android division in a while, but now the Japanese entertainment giant has suddenly gone into attack mode: debuting two new Androids – the Xperia V and the Xperia T– at this year's IFA. Yesterday, we were able to play around with both of them.
Although both smartphones are very similar, there are a few key differences: the Xperia V can connect to both HSPA and LTE networks, while the T has a radio that's compatible with only the HSPA network. For this reason, we're confused as to which phone we should designate "flagship status" – while the Xpiera V offers LTE, its technical details are surpassed by the T in a few critical areas (including front camera and display technology). A Sony rep told me that the Xperia V "is our secret flagship." But the phone's lesser specs may push it back into the second row.
Design
Whoever holds these devices will immediately notice their ergonomic appeal. Sony has got the design down to a science. Unlike the Xperia S, this successor has the shape of the Xperia ARC, which caused a minor sensation a half year ago. Of course, design is always a metter of taste. A colleague, for example, deemed the phone "too square," while I was simply thrilled.
In any case, the curved back of the Xperia T and V feel extremely well-balanced in your hand. On top of that, they still fit comfortably in one hand and at the same time feel very light. Here are some raw numbers to illustrate how they stack up the competition:
Samsung Galaxy S3 70.6 x 8.6 mm / 136 grams
HTC One X: 134.36 x 69.9 x 8.9mm / 130 grams
Sony Xperia T: 129 x 67 mm x 9/136 grams
Sony Xperia V: 129 x 8.5 x 65 mm / 133 grams
Construction and material selection are also top-notch on both devices. They're made of high-quality plastic that feels a bit rubbery on the Xperia V and smooth and shiny on the Xperia T.
So everything is perfect? No, of course you can find a hole in the canoe. I, for one, did not like that the Xperia T is manufactured in a unibody casing, making it hard (if not impossible) to remove the battery. The Xperia V, meanwhile, allows you to pop-off its waterproof back – and thus replace the battery.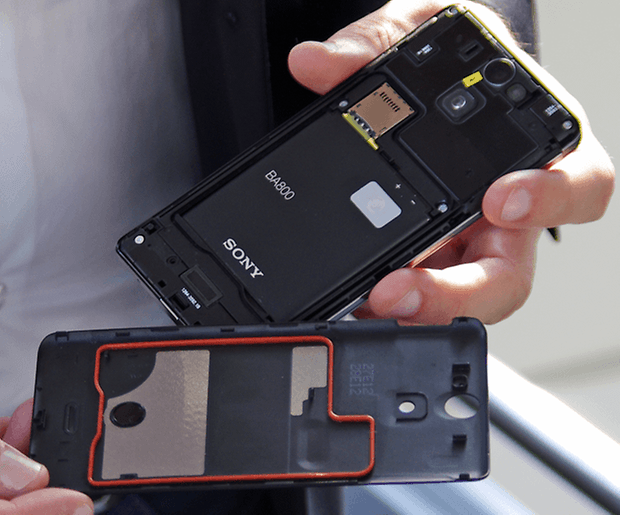 The Xperia V's back cover is water-proof and removeable (c)AndroidPIT.com
Display
Technically, both models impress with thoroughly up-to-date display specs. Both models pack 1280x720p into their screens, but they are different sizes (Xperia T is 4.6-inches, Xperia V is 4.3-inches). Both displays look brilliant, and hold up quite well, even in direct sunlight. Even compared to Super AMOLED, these phones performed better than expected: While I was on my Galaxy S3 in the sunshine, I could hardly see anything, but the Xperia's display was still easy to read. One difference between both displays can be safely ignored: between Sony's Mobile Bravia Engine (Xperia T) and Mobile Bravia Engine 2 (Xperia V), we did not notice a shred of difference.
Camera
Even just from a glance at the technical details, it's clear Sony has put a great emphasis on its cameras. Although I wasn't able to take photos yesterday, I'm sure that the combination of an Exmor sensor and 13-MP resolution will lead to bombastic smartphone photos. There are also a few extras, such as the Quick Launch camera feature, which allows you to snap a photo within a few seconds from the lock screen. The Xperia T also even has a shutter button on its side.
I also liked that the new Sweep Panorama function found only on the Xperia V allows you to take not only horizontal but also vertical 180-degree Panoramic shots, so you can take a picture of tall buildings as well as meadows (and maybe even merge the two).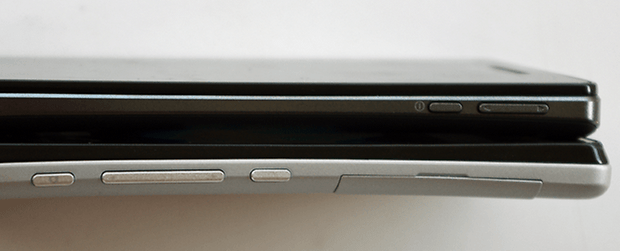 At its thinnest point, the Xperia T is only 9mm, while the Xperia V is 8.5mm (c) AndroidPIT.com
What else?
Sony is still bringing its Timescape / Mediascape UI, this time laid over Android 4.0
HDMI output is realized via USB MHP, which means one less connection to the device (good) but a standard mini HDMI connector does not fit (bad).
NFC chip allows you to share photos, music and videos by bumping your phone against other NFC-enabled Sony phones.
Conclusion:
My clear favorite is the Xperia V. It costs only 30 euros more (549/579 Euros MSRP) and provides a few extras that seem worth it to me. Foremost among those is the waterproof case, but I also like the fact that the display is 4.3-inches long diagonally, as the Xperia T's 4.6-inches goes too far in the direction of the Galaxy Note for my taste.
But I wonder if Sony hasn't dreamed big enough here to capture the imagination of the average consumer. The smartphone market is one of the most competitive in the world, and mistakes are punished mercilessly. Maybe Sony will hit the sweet spot for consumers who have been waiting for a stylish cell phone with a good camera and a quad-core processor. Or maybe not. We will have to wait and see!