10 Reasons Why You Should Buy A Tablet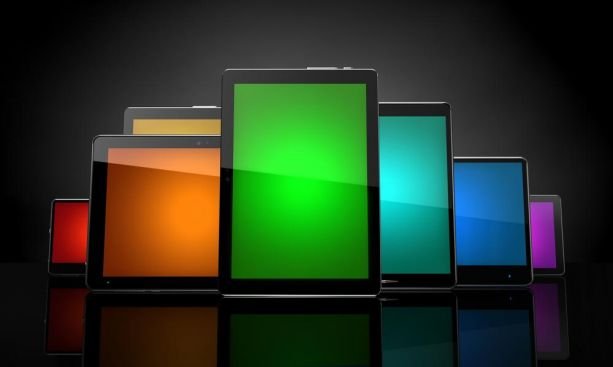 So you're walking around your favorite electronics store, checking out some new PS3 games, looking at new TVs, and just doing some good old fashioned browsing. All of a sudden, you find yourself surrounded by that new craze that seems to show up on more and more on TV commercials and billboards: tablets. There are so many to choose from at so many different price points, in all shapes and sizes, and with so many operating systems available. But do you really NEED a tablet? Why should you spend your hard earned cash on these "oversized smartphones"? Well, after owning 2 Android tablets and an iPad, I can give you my top 10 reasons why you should buy a tablet, which will hopefully give you a few reasons to see why a tablet is indeed worth the investment. Some reasons may sound a bit silly, some are undeniable facts, but all are definite truth.
10.The perfect toilet companion
I'm not going to get into how much time I spend on the royal throne, but I will say that it's enough to get boring every now and then. Lots of people lay a magazine in the bathroom anyway right? So why not take a magazine that literally never runs out of articles? You may be laughing now, but you know I'm right :-D (This is the only silly fact on the list, but it's also completely valid).
9. Great to use when traveling
If you need something to keep you occupied during that long vacation flight to Thailand, a tablet can come in very handy. With so many different sizes of tablets (for Android anyway) available, finding one to slip in your laptop bag or even in your purse is no problem. A great way to kill time on a flight or relax while laying by the hotel pool.
8. As a small TV in the bedroom (or as a second TV)
I have a big 40 inch HD TV in my bedroom, but when the screen is too bright and keeps my girlfriend from getting a good nights sleep, I simply turn off the TV, get out my tablet, load up a TV app like TVGO Live or Zattoo, plug in my headphones, and enjoy watching TV directly on my tablet. All you need is a wifi connection and you're good to go. As silly as it may sound, this is a really great way not to disturb your partner, yet catch your favorite show at the same time. I do this regularly, and I've gotten to where I actually enjoy watching TV from my tablet.
7. Your kids will LOVE IT
While I certainly wouldn't ever advocate letting your kids sit and play with an electronic device 10 hours a day, I must admit that kids LOVE tablets. They are fascinated by them, and my friends that do have kids really love using them. Younger children love using them for reading interactive kids books or audio stories, playing counting and learning games, or even for playing games with their friends. Again, I'm not saying they should stay glued to it, but what I can say is that they can be very beneficial for children if controlled and monitored properly by the parents.
6. The best coffee table accessory ever invented
When my tablet isn't on the run with me or in use, it lays on my table in the living room. When I have friends or family over, you have no idea how often it gets picked up to show someone something. Whether it's viewing vacation photos, showing a funny Youtube video, or quickly reserving movie tickets online, it's so easy and practical for anyone to quickly pick up and use.
5. Whatever you need, there's an app for that
Google Play currently has around half a million apps (even more on IOS), and whether you want help doing your taxes, a guide to figure out how to level enchanting on Skyrim, or satellite imagery from the Great Wall of China for a school project, there is most likely an app that can help you accomplish whatever you need. While these apps might also be available for phones, the bigger screen on the tablet is a lot easier to work with, and won't strain your eyes when using it for long periods of time the same way a phone will.
4. Boost your productivity tenfold
My Transformer Prime comes with me everyday to the office, and for good reason. When I need to test an app, check the website to answer comments on the blog, check traffic stats through Google Analytics, take notes for a meeting I have with the content team, convert currencies or crunch some numbers for the App Store, have a Skype video call with someone applying for a job, show a Powerpoint presentation over the TV, share documents with team members with via Google Drive or Dropbox (and so so so so much more), I can do it all with my tablet. The fact that mine has a keyboard dock makes it that much more useful, and it's lightweight and compact weight means I'm not tied for my desk (which is why lots of my colleagues constantly see me running around our big offices with my Prime in hand). If you want to increase your productivity, a tablet WILL make your life a lot easier.
3. The ultimate media center for whatever you need
Want to check the news from literally every news source in the world? Want to rent a movie? How about make a playlist for the party you're throwing? Want to listen to ANY radio station on the planet from anywhere? Like reading books with literally tens of thousands of titles to choose from? Do you like keeping photos archived of all your vacations or family events? Need to pick up that new Muse album without heading to the department store? All of this (and a hell of alot more) can be done right from your tablet. Magazines, music, movies, photos, radio...you name, your tablet can serve you right up.
2. Games anyone?
This was almost my number 1 reason. I cannot stress enough how many AMAZING FREAKIN GAMES THERE ARE FOR TABLETS (both for Android and IOS)!!! From arcade games like Granny Smith or Subway Surfer, to hardcore "gamer games" like N.O.V.A 3 or Max Payne, mobile games are getting very close to console quality. Like FPS games? Dead Trigger or Counterstrike will keep you occupied. More into third person shooters? Then check out Mass Effect Infiltrator or Dead Space to have your mind blown.
Into sports? Pro Evolution football or NBA JAM will keep you occupied. Like RPG's? The Bards Tale or HORN will make your jaw drop. Racing anyone? Riptide or Asphalt 7 deliver to the fullest. Flight games? Checkout Bombshells or Galaxy on Fire 2 for an insane experience. MMO anyone? Order and Chaos Online = Guild Wars for mobile. Arcade? Angry Birds, Temple Run, Canabalt...and it goes on and on and on. But it doesn't stop there.
This is where Android tablets shine in particular. My Prime is a Nintendo, Super Nintendo, Sega Genesis, Nintendo 64, Gameboy Advance, and PS1. That's right. There are emulator apps that allow you to play orginal console games WITH GAMEPAD from your tablet. From there, I hook my Prime up to the TV via HDMI, and enjoy my favorite old school titles with no problems at all. If you're into gaming, you NEED a tablet (many games mentioned here are available on Android and IOS, but some are exclusively available for Android).
1. Surfing the web
I bought my first tablet last year, and as God is my witness, I have literally stopped surfing the net using my computer at home. Surfing the net, checking emails, looking around on Facebook, checking out your favorite websites, or just poking around looking for interesting articles is so much more interactive and fun when you're doing it on a tablet, and thanks to Android's flash support, you won't run into constant issues when surfing (assuming you choose to go with an Android device).
Not having to hold the laptop on your lap or being stuck sitting in front of your PC after a long day of school or work is SOOOOO much more relaxing, fun, and engaging when doing it from a tablet. It simply never gets old, and my tablet gives me a great way to kick back and relax on the couch after a long day of work. I honestly can't ever imagine going back to surfing at home on a PC.
Conclusion/Android tablet or iPad?
So that's about it guys. I hope you found a few of these reasons useful, and I hope that you believe me when I say that I'm talking from personal experience and not just something I read. I'm on my second Android tablet (about to be 3rd), and it has honestly became a loyal companion that I find myself constantly using. I simply couldn't imagine getting through my day without it. I was careful not to write that only Android tablets can accomplish all of these things, as the iPad can accomplish many of the same tasks just as well or better. That being said, both Android and IOS based tablets have their pros and cons, and you will need to try out a few different kinds of tablets to figure out which you're more comfortable with (also keep in mind that the examples mentioned in this article can all be accomplished from my particular Android tablet, but doesn't mean they be done on EVERY Android tablet/only on Android tablets).
A tablet will make your day at work more productive, your school projects easier to manage, your business trips more comfortable, your vacation even more relaxing, your parties full of great music, can provide your children with fun learning experiences, can keep gamers on the edge of their seats, will keep your partner from going crazy when you want to watch that kungfu film that's coming on at 4AM, and can make a relaxing day at home even more relaxing. So if you have been considering getting a tablet, try it out! I promise you that if you get a quality tablet from a brand you can trust, that you will not be disappointed.
Picture credits: www.digitaltrends.com