CES 2015: All the Android news you need to know [updated: wrap-up video, Galaxy S6 and LG dual edge display]
The CES 2015 hadn't even started yet officially and already companies announced new smartphones, tablets and other types of arrivals, like LG, Asus, Archos, Acer and NVIDIA. Here we will be covering all of the Android-specific highlights announced at the CES 2015 that you really care about. Stay tuned for more CES 2015 news and highlights from one of the world's biggest consumer electronic conventions, which runs in Las Vegas from January 6th to the 9th.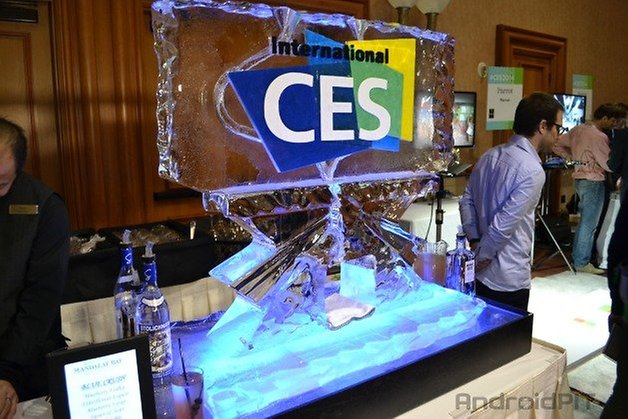 Samsung shows off the Galaxy S6...behind closed doors
The Galaxy S6, but it was only shown to "select partners" (not the press). Still, it is evidently in the final stages of production, and we probably won't have to wait past April to get our hands on one.
HTC Desire 826 announced: a mid-range phone with Lollipop
HTC presented the HTC Desire 826 during the CES 2015. The newest addition to the Desire line, which is a series of budget devices which are reputed for good specs and an even better price, comes with a 5.5-inch LCD display of 1,920 x 1,080 pixels.
The Desire 826 comes with 16 GB of internal storage, but with a micro SD slot to expand storage space. It'S also got a 13 MP shooter on the back and 4 MP Ultrapixel camera on the front, though in some markets it has a 13 MP f/2.0 sensor on the front instead. The HTC Desire 826 also comes with HTC's recently released Eye Experience software as well.The whole is powered by a octa-core Snapdragon 615 processor clocked at 1 GHz, 2 GB of RAM and a 2,600 mAh battery.
What else is cool about it? It comes with Android 5.0 Lollipop straight out of the box!
Check out our CES 2015 wrap-up video below.
Google reveals what's in store for Android TV in 2015
While Google TV might have been left by the wayside, the search giant still seems determined to penetrate the TV market with Android TV, bringing video content to the living room, car, and even your wrist. There are already a number of TV manufacturers on board with Android TV, Sony and Samsung both expected to bring out Android TV-powered products in the first half of 2015.
Android TV essentially offers what we saw on the Nexus Player last year, only this time arriving pre-installed in TVs. This means access to live television, games, and apps accompanied by Material Design and voice-search functionality.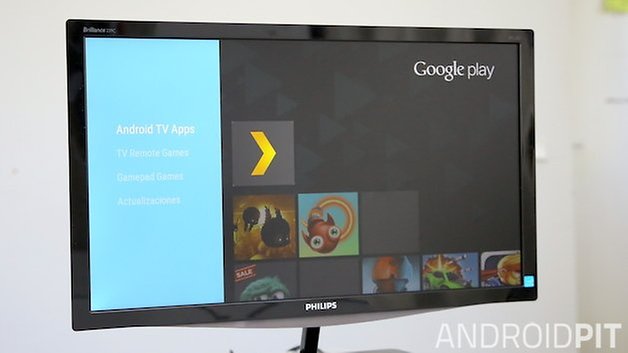 Google Cast for Audio: Chromecast for your ears presented
In case you missed it, Google announced the new Google Cast for Audio during the CES 2015. Plainly put, it's like Chromecast for sound. Google Cast for Audio works via an app on your Android phone or tablet. The app will send the audio, music, podcast etc, anything stored on the cloud, to a supported speaker, which in turns plays what you've sent to it.
Sony has already introduced a number of devices named which are going to integrate with Cast for Audio, these are:
SRX99 (Bluetooth speaker)
SRX88 (Bluetooth speaker)
HT-ST9 (7.1 Soundbar with wireless subwoofer)
HT-NT3 (2.1 Soundbar with wireless subwoofer)
STR-DN1060 (7.2 Wi-Fi network A/V receiver)
STR-DN860 (7.2 Wi-Fi network A/V receiver)
Check out the video to see it in action.
Samsung shows off A3 and A5 smartphones
Samsung did have a couple of new smartphones to show off at CES (sadly neither of them were the Galaxy S6) in the form of the entry level A3 and A5. These metal-clad handsets will be hitting Asia at low price points to compete with the likes of Google's Android One. The Galaxy A5 is the larger device, featuring a 5-inch screen 1,280 x 720 AMOLED display, with the Galaxy A3 coming in at 4.5-inches with a 960 x 540 resolution. Both handsets come with a quad-core processor and 1 or 2 GB of RAM, depending on the version - these handsets could soon see Samsung taking over another market.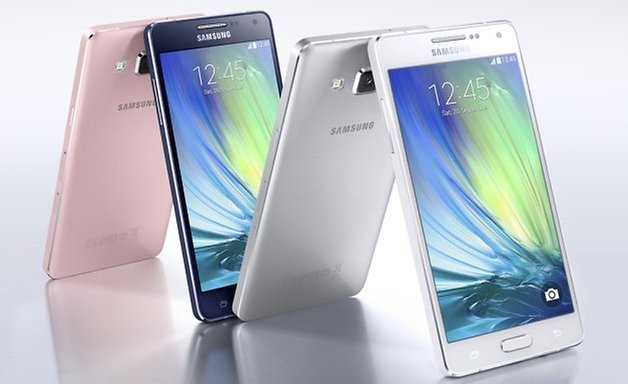 Asus presents the first smartphone with 4 GB of RAM, the Zenfone 2
The Zenfone 2 is one of the biggest announcements of the CES 2015. The phone comes with 4 GB of RAM, a first in the mobile market (though it won't take long until rivals step up their game) and also packs an Intel Atom processor, 3,000 mAh battery, 13 MP camera on the back, and 5 MP on the front. In terms of software, it brings the ZenUI user interface, with Android 5.0 Lollipop right out of the box.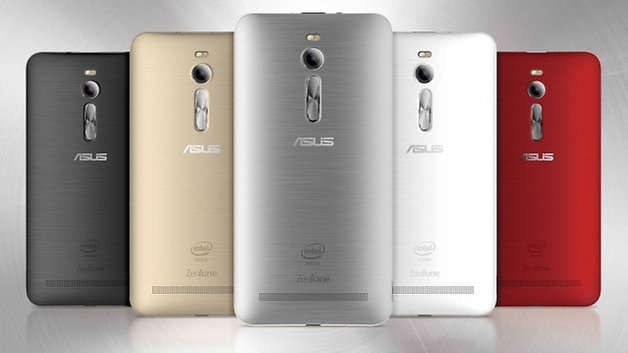 Sony makes sexier all-steel Smartwatch 3
The Smartwatch 3 has been out since the fall of 2014, where it was announced at IFA. However, Sony has now made it a lot fancier by presenting a new steel version at the CES 2015. It can even be said that the Smartwatch 3, with its new armour, is the best watch on the market right now. What's cool about it? It runs Android Wear, has a standalone GPS for fitness and Lifelog apps for tracking your daily activity, and is IP68 water resistant. On the downside it doesn't have a heart-rate monitor.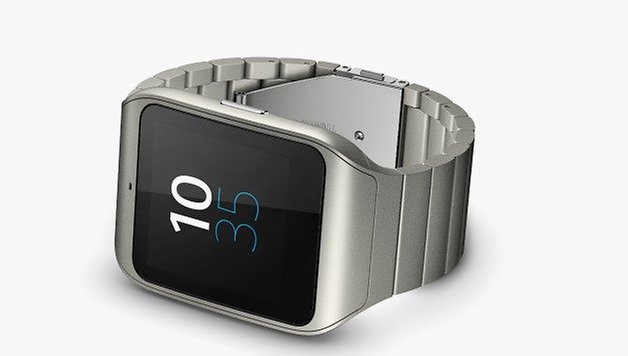 Sony presents the Android powered Walkman that costs a fortune
The Sony Walkman ZX2 is Sony's 1200 USD mp3 player announced at the CES 2015 which runs Android 4.2, allowing you to download and use apps from the Google Play Store. That being said, that's not the Walkman's intention, it's be created to give you the best listening experience you can buy, with 128 GB of built-in storage, expandable with a micro SD-card. It supports DSD, WAV, AIFF, FLAC, Apple Lossless, and more, as well comes with Bluetooth for wireless streaming and NFC to easily connect to speakers and headphones. It doesn't get anymore premium than this folks!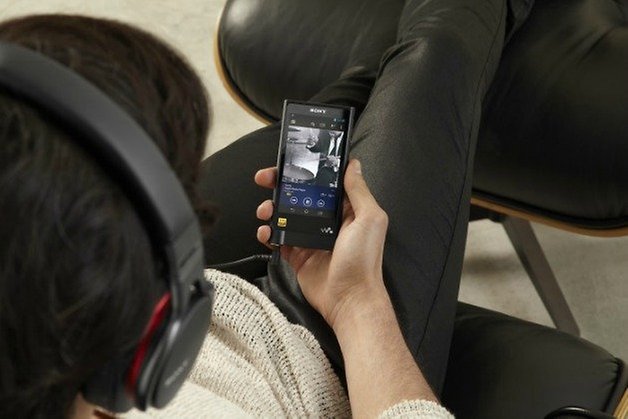 LG unveils the LG G Flex 2, the world's first phone with a Snapdragon 810
LG unveiled the LG G Flex 2 during their press conference at the CES 2015, right before the convention officially got underway LG's newest bendy phone leaves its almost lacklustre predecessor, the LG G Flex, in the dust as it confidently steps into the high end phone range thanks to its Snapdragon 810 processor, the first smartphone to come with the much-hyped chipset for mobile phones. The phone also dons a Full HD P-OLED display and has a much improved camera. It has a bendable chassis, which includes of course a flexible battery, and a resin self-healing back cover, in a 5.5-inch package.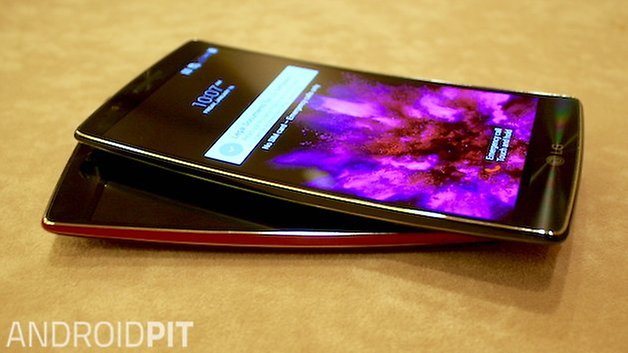 LG Aka - the first smartphone with personality
LG also presented the South Korea-only LG Aka, what it describes as the first smartphone with "personality". Each of these four quirky handsets has its own specific character traits, and their eyes react to notifications and your phone status, looking down if you need to take your phone out of the supplied case to read something.
In terms of specs, these are mid-range handsets: 5-inch 720p screen, 1.2 GHz quad-core processor, 1.5GB RAM, 8 MP rear-camera, and 2 MP front camera, 16 GB internal storage, a micro SD-card slot, and a 2,610 mAh battery, all running Android 4.4.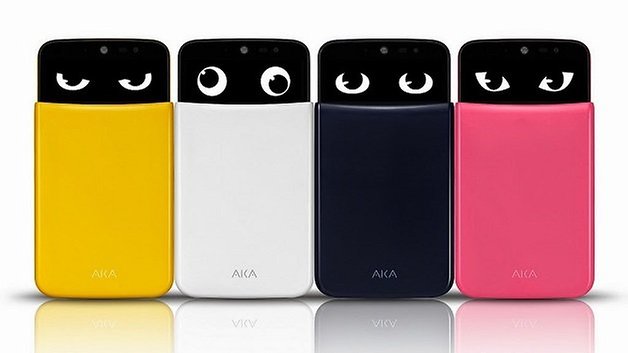 LG Display's dual-edged concept device
LG Display showed us a new dual-edged display prototype which may make its way onto upcoming devices. The 6-inch HD OLED panel, while not the prettiest around, is built for functionality, with the side screens being used for things like quick access to most-used apps, and for viewing recent notifications.
We've already seen Samsung successfully implement a sloping screen on the Galaxy Note Edge, and LG has said that although the handset shown was just a concept device, the display is ready for mass production. Will the LG G4 include this dual-edged panel? Very possibly...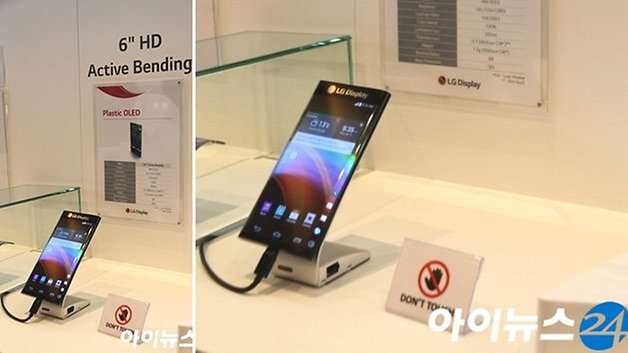 NVIDIA announces the mobile super chip, the Tegra X1
Probably the best announcement for the Sunday before the CES 2015 got underway was one from NVIDIA. The company dropped the next generation NVIDIA Tegra X1 processor platform which is two times faster than the best processors out there at the moment. It uses the so-called Maxwell architecture, which was first intended for desktop products, like PC and laptops.
Now, NVIDIA is bringing the power of these processors to phones and tablets, with what the head of NVIDIA is referring to as the ''mobile super chip''. It brings 256 CPU cores and a 64-bit octa-core CPU. So why do we need such a chip? NVIDIA promises that this processor will be the fastest you can get with the same performance you'd hope from a PC, while consuming very little power. Not only that, it's going to make gaming on smartphones and tablets, especially for high-demanding HD games, much, much better. So far there is no news as to when this chip will come to phones though, but we'll keep you posted!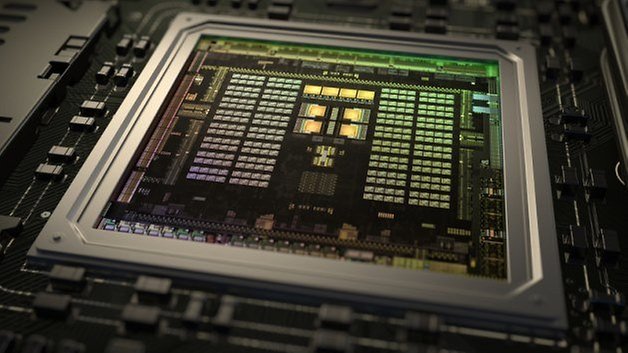 Archos steals the mid-range smartphone show with Archos 50 Diamond
Archos seems to be maturing into the mid-range smartphone sector this year, stepping away for a second from the usual entry level mobile devices it usually produces. To kick off the CES 2015, Archos has officially launched the Archos 50 Diamond, which is an mid-level 4G phone that comes at an affordable price of 300 USD, but rocking the tech specs with its 5-inch Full-HD IPS display, along with a octa-core 64-bit Snapdragon 615 processor. This comes with big.LITTLE architecture, meaning that it has 4 cores clocked at 1.7 GHZ, while the other 4 are running at 1.0 GHz. It also has 2 GB of RAM, as well as the attractive offer of dual SIM slots, and of course, 4G/LTE. For this price, and what you are getting for it, I'd say that Archos has found a way to top the mid-range sector. It doesn't look that bad either!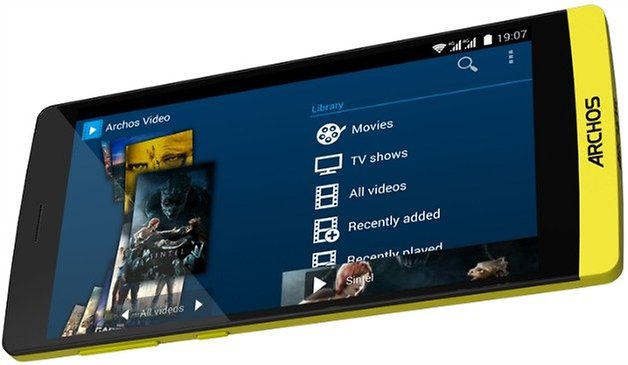 Acer announces Liquid Jade S and Liquid Z410: entry and mid range 4G smartphones
Acer wasn't one to shy away from an early announcement either! The company let it rip with two early smartphone announcements: the mid-range Liquid Jade S, and entry-level Liquid Z410.
The first arrival looks great: the Liquid Jade S got a 64-bit processor, a 5-inch IPS display, 2 GB of RAM, 16 GB of storage, topped off with a 13 MP back-facing shooter (f1.8 aperture) and 5 MP on the front for some quality selfie picture taking action. Inside you'll find a 2,300 mAh battery, though it's non-removable due to the device's sleek slim 7.78 mm thickness. Other perks include 4G connectivity, a nanoSIM and micro SD card slot-in-one. This means you can choose to either have a SD card or a nano SIM in there, for either extra storage or dual SIM.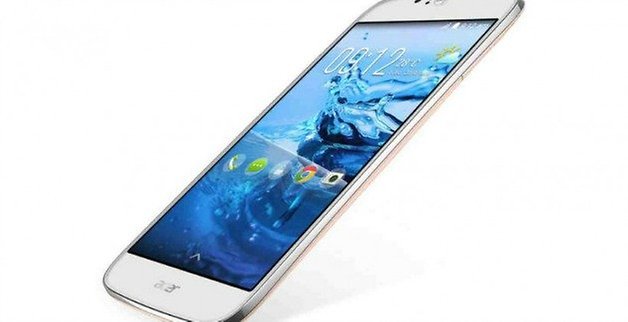 The entry level gem, the Liquid Z410 is CAT 4 LTE enabled, comes with a 4.5 inch qHD display, a 2 MP front-facing camera with an 80 degree wide-angle, and runs Android 4.4 KitKat, all for 155 USD.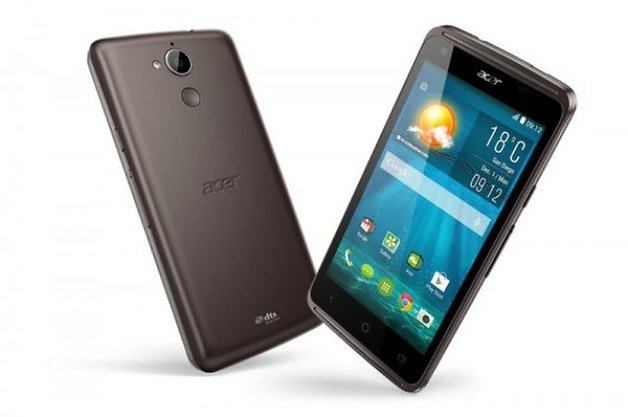 Alcatel OneTouch affordable smartwatch series
Alcatel has boldly entered the wearables stage with range of affordable smartwatches which go under the name of Watch. So far the price is yet to be announced, but they likely will be less than the Moto 360 which costs 250 USD. Though not running on Android Wear, these watches will function with your Android smartphone and offer the usual sensors and features, like ones to monitor your daily activity (steps, heart rate), control music, take pictures, receive notifications etc. Coming in a range of styles, the watches are being launched at the same time with the Alcatel OneTouch PIXI 3 series smartphones which are 4G entry-level devices that are compatible with Firefox, Windows and Android.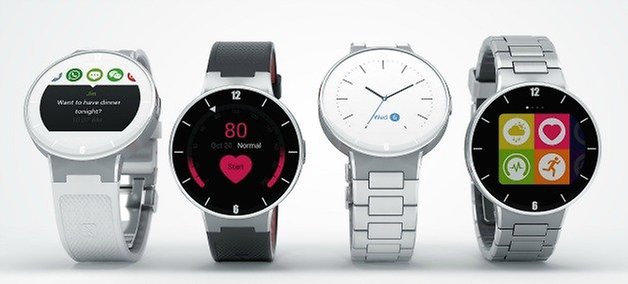 What do you think of what's been presented at CES 2015 so far?