When Panorama Photos Aren't Enough–360 Smartphone Videos With Dot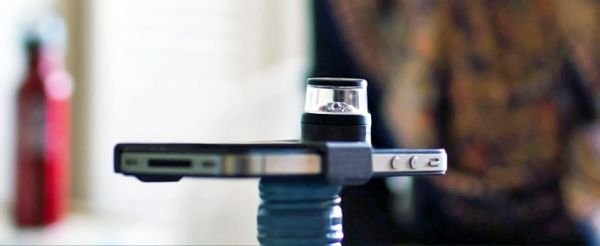 Dot–a short name for a small gadget that lets you film 360 degree videos on your Android smartphone. The camera add-on was released for iPhone last October and Android shutter bugs will finally get their hands on the cool little lens system in the first half of 2012. Video samples after the jump!
The company behind the Dot is a new start-up by the name of Kogeto. According to founder and CEO Jeff Glasse the Dot system can quickly film 360 videos and quickly upload them to any online platform; "You're capturing everyone in the room – 360 degrees [...]And then with one click you can upload that to Facebook, Twitter, wherever you want to share it."

The idea behind the Dot is simple: the shot glass shaped add-on clips on to your smartphoen and functions like a jewlers loop or a magnifing glass on a much smaller scale.
The device will be released in the first half of 2012 in the US for the Galaxy Nexus and will retail for around $79.
Dot was financed by the website Kickstarter, a project that collects donations for creative projects. Kogeto was hoping to collect $20,000 for their first production run but was able to rake in $120,500 from over 1000 donors.
To get an idea of how the videos work just press play and drag your mouse either left or right on the videos below.