3DMark is Going Cross Platform, Let the Flame Wars Begin Futuremark announced today that their popular benchmarking tool, 3DMark, will soon be making its way to other platforms besides the PC. The decision to transcend platforms was largely influenced by the need for a consistent benchmark tool.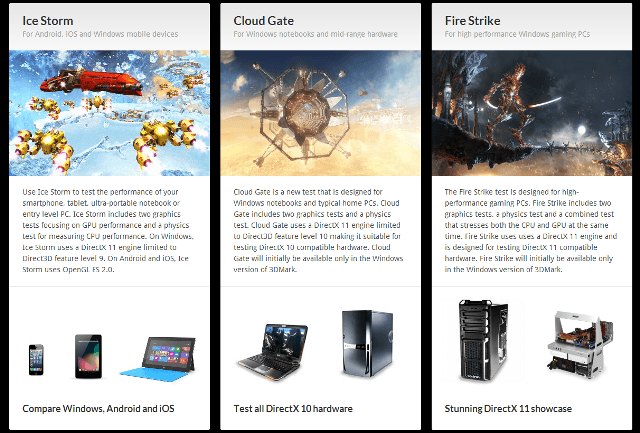 Most folks use multiple devices that span a wide range of platforms, including Android, PC, Mac and the dreaded iOS (I know, I know, save your snide remarks for the comments section). Naturally, it's convenient when you can use the same software across all of those platforms. Hence, that is why 3DMark will soon be available for Android, iOS, Windows RT and more.
Futuremark says "the world's most popular benchmark and PC test" will be arriving with three different software assessment apps. The new 3DMark testing tiers are as follows: Ice Storm will be available for mobile devices and "entry level hardware," Cloud Gate will be available for Windows notebooks and midgrade PCs, and Fire Strike will be available for high-end gaming rigs.
Keep in mind, all three hardware tests are bundled as one benchmarking tool. You won't need to purchase each version separately.
The three tests will essentially run tests on the hardware in question, using DirectX 9, DirectX 10, and DirectX 11. Once your individual scores are in, you can compare them with stats from other devices. Let the flame wars about machine performance begin! It will be interesting to see how the iPhone 5 stacks up against the Galaxy SIII and Nexus 4.
Do I hear the cry for a Nexus 10 and new iPad match up?
The latest version of 3DMark is expected to hit the market "before the end of the year." So hopefully, by Christmas we'll see what kind of scores the Droid DNA is working with.
The extraordinary news here is that I can finally stop using the AnTuTu benchmarking tool when 3DMark finally lands for Android. Is it safe to mention that I really don't like AnTuTus user interface?
Is anyone else excited for 3DMark's upcoming Ice Storm test for mobile devices? I know I am! I can't wait to test out my Android devices!