Smartypants! 5 Free Apps to get you Smarter.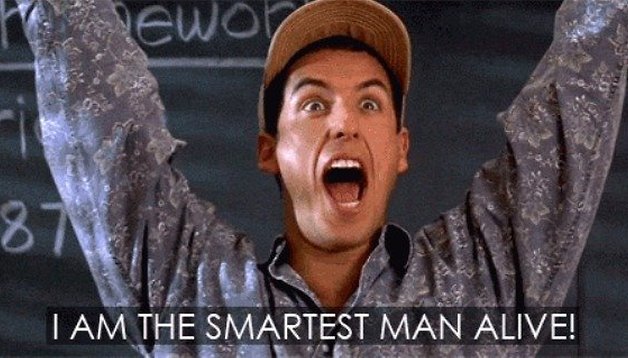 Ok, so depending on who you listen to (developers or scientists) you may think Brain Age added twenty years of youthful pep to your ol' gray matter or you may think it's all bollocks. Either way, there are plenty of apps out there to make you a smarter, more well-rounded person, if not exactly a Mensa Olympian.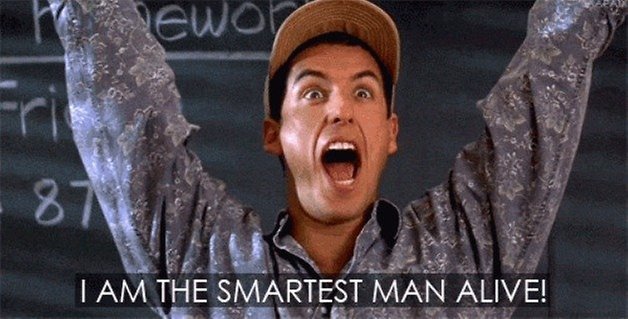 Whether you need a bit of a memory boost, love your trivia, have no idea what the highest capital city in the world is, really need to win at Words With Friends or just want to sound clever, we've got the best apps to make you smarter. Or at least make you look that way.
Ok, so memory doesn't exactly equal intelligence, but remembering where you left your pants, I mean keys, does come in handy. Memory Trainer claims to work out your spatial and working memory, focus, number chunking and concentration skills. But really, it's just lots of fun.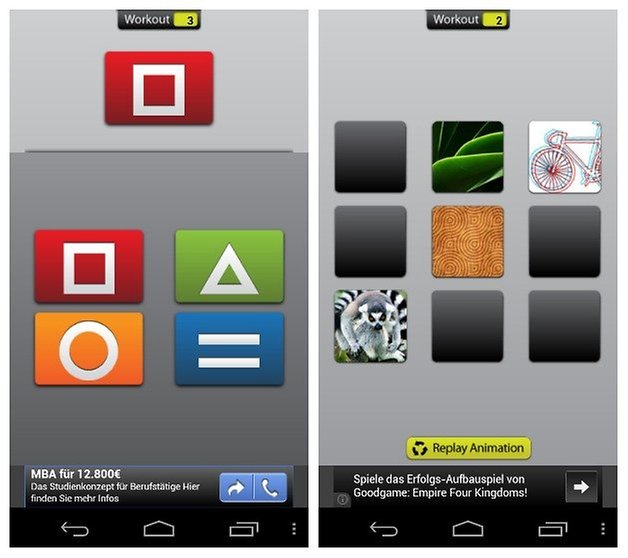 Memory Trainer improves your memory through a series of short exercises where you memorize tile locations, reproduce color or shape sequences, remember number strings and information allocation, and so on. Chances are you've already played this game, but if you haven't, don't forget!
I've been playing this game for a while now and I really enjoy it, more for the casual nature of the deceptively simple tasks than for any sudden boost in my ability to remember anything in particular. It's not easy though and definitely requires some concentration if you want to get decent scores.
Memory Trainer has also recently included N-Back, which is ''a continuous performance task that has been proven in several studies to increase your fluid intelligence.'' I want fluid intelligence! Download.
If mastering your own language isn't enough for you, then Duolingo is a must-have for anyone learning (or wanting to learn) a foreign language. I've been learning German for a couple months now and have finished classes for the summer, so having Duolingo on my phone wherever I go is brilliant. It also means that I have no excuses not to better my language skillz. Damn!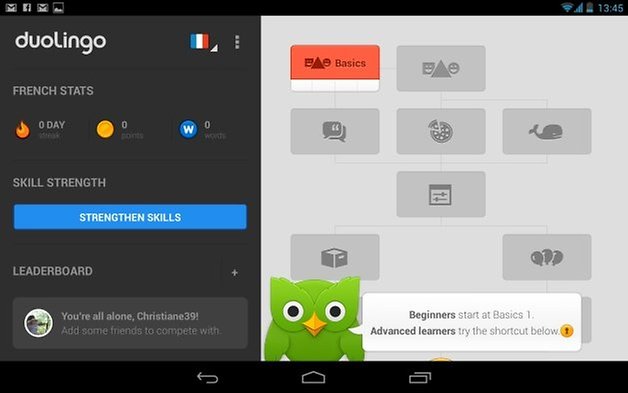 Duolingo guides you through learning a new language from the basics of vocabulary acquisition, grammar, picture exercises and simple translation to complex transcription, sentence structuring and more. All the same kinds of stuff you'd know from language classes or Rosetta Stone, but on the go (and free!).
You can currently learn German, Spanish, French, Portuguese, Italian, and English with more languages undoubtedly not far away. Learning a new tongue is no mean feat - and Duolingo won't necessarily make it easier - but it will be a lot more fun. And if you can have fun while you learn, then you are much more likely to stick with it.
Who doesn't love trivia and sincerely believes it enriches their life? If nothing else, it at least makes you more popular down at the pub on trivia night. Who Becomes Rich lets you test your intelligence on a huge range of topics, from capital cities, to 'Friends' trivia, to science, music, common sayings, history, sports, ok, you get the picture.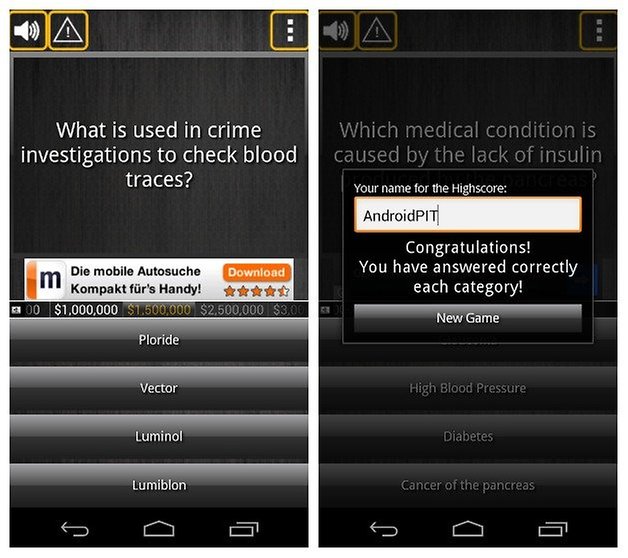 Who Gets Rich is another standard time-waster that is very popular in Android land, and it's easy to see why. If you're not already playing you should be. It is seriously addictive, and as you progress (Who Wants to be a Millionaire-style) the questions get harder and harder. But just because you're on your smartphone don't go googling the answers!
You can post your scores to compete with your friends, use lifelines for those one odd questions you don't know, and the best thing of all is that you can submit your own questions for review and addition to the app's database. So all that obscure knowledge you've acquired over the years can now be put to good use. Now if that's not motivation enough to get your trivia on, then I don't know what is!
Ok, how can we have an app gallery on getting smarter without some math fun? Maybe you hated math in school or maybe its logical conclusions made perfect sense to you. And all those teachers were right: it does come in handy in later life. No matter how you feel about 'rithmetic, math can be enjoyable. Especially if there's a game involved.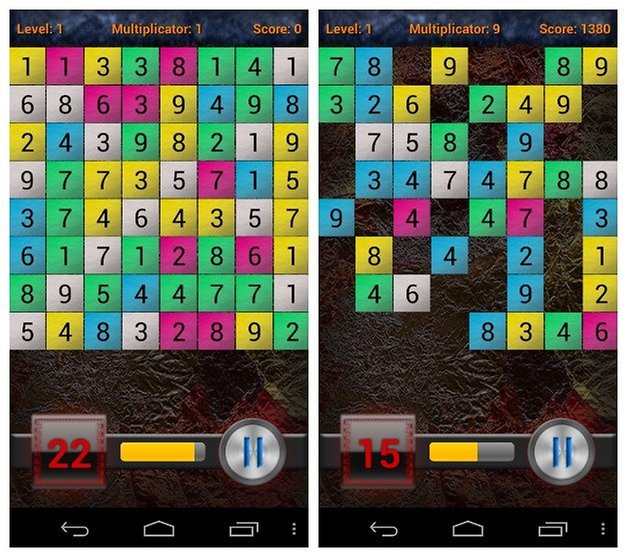 Math Genius requires you to make simple calculations to sum up to a pre-determined total on a number board that gets smaller as you perform calculations. The more complex your calculations the better you score. To make it more complicated, you're also supposed to match colors and this needs to be done in a limited time frame.
While I'm not really sure sure if this app will make you the next Will Hunting, it definitely does improve your quick-access math skills which probably don't get as much of a work-out as they used to. The developers also claim that the app will improve your observation, focus, concentration, and memory abilities. So, who's ready to tackle Fermat's Last Theorem?
I've always loved geography and yet I always seem to be crap at it until I've actually been to a place and had reason to remember things. Countries of the World has helped me to look like less of a buffoon many times since I first downloaded it. And lordy, does geography come up a lot in pub quizzes!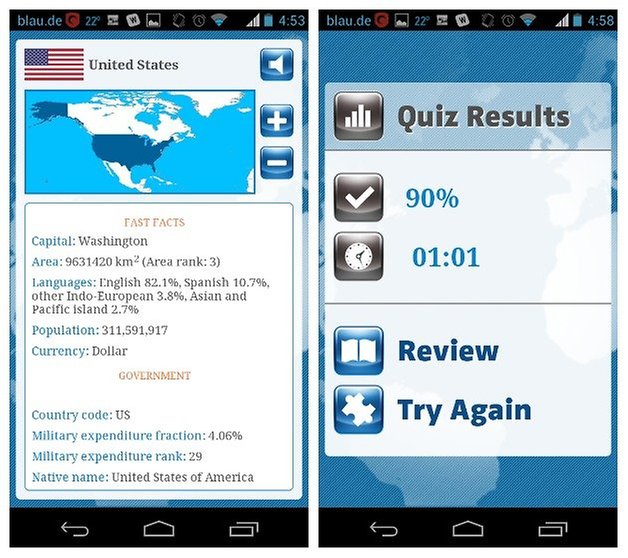 You can specifically select a region of the world you know nothing about or have the app pick one for you. You can also select the field in which you want to test your knowledge on: capitals, land mass, elevation, religion, population, GDP, flags, currency, and so on. I've played with a few of these apps over the years and I really like the simplicity of Countries of the World because it's based on facts, not theoretical knowledge like Brain Cafe's Geo Quiz (which I do still like).
You have access to fast facts about each country (I have no idea if they are accurate though, so don't take my word for it on Who Becomes Rich!) which you can also access from the world map, and you can set the answer type for the quiz depending on how hard you want it to be: do you prefer fill in the blanks, multiple choice, true/false flashcards etc. You can even choose to 'include tiny nations'. How considerate!
And there's a few other reference apps no-one with an interest in being clever should be without.
Handy for, you know, looking up words.
Now with offline functionality, Google Translate is brilliant for, you know, translating words.
Wikipedia is awesome for, you know, looking up stuff.
The Internet Movie Database is a, you know, internet movie database.
Go is an ancient Chinese game that, you know, the ancient Chinese played.
What apps make you look more clevererer than you really are? Have you had any memorable experiences with brain training or study-based apps?