5 New Features You Can Expect to Find in Google Play 4.0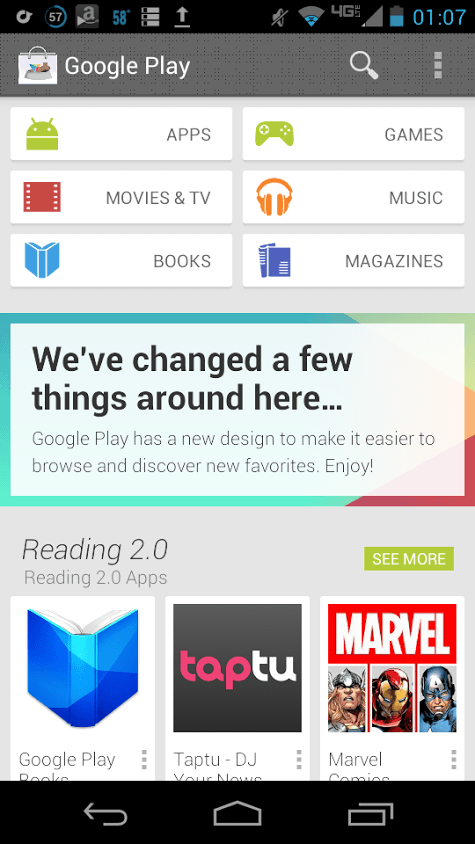 Google Play is getting another makeover, and the newest version of the app will be even more pleasing to the eye as well as more convenient to use. The app will most likely launch alongside Android 5.0 / Key Lime Pie at Google I/O, but there have already been a number of leaks. Here's what we KNOW the next version will have:
1. A Better Homescreen with Helpful Cards (Just like Google Now)
According to a leaked screenshot, the new homepage for Google Play will feature cards, much like Google Now. They might give app recommendations, or tell you about special offers. We wonder whether they'll also be customizable.
2. A New Holo UI with Colorful Top Bars
As you can see in the video below, the new version of Google Play features an improved Holo UI, which gives it much more of a cleaner, brighter look than its previous incarnations. Black accents have been replaced by colorful pixelated bars corresponding to the different sections of the App Store – Apps, Music, Books and Movies.
3. A Pull-Down Search Menu
Instead of needing to scroll back to the homescreen to change sections, users can now specify which search results they want by selecting categories from a pull down menu. So if you want to search for a Michael Jackson album, you won't have to wade through a bunch of Michael Jackson apps.
4. A New Music Section
The music section has also received a much-needed facelift, with an emphasis on pictures and well-placed text elements.
5. No More Dreaded Download Pages
One of the updates is quite small but very appreciated: now, when you download an app, Google Play simply downloads it without forcing a new screen on you.
We're almost positive Google will be unveiling the new Play app at Google I/O. We'll let you know if any APKs leak ahead of its official launch.