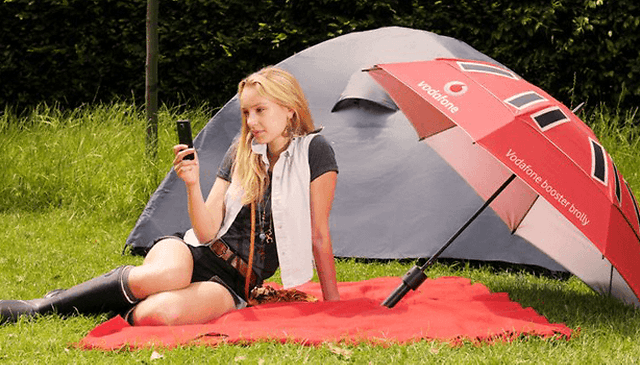 5 Wacky Ways to Charge Your Android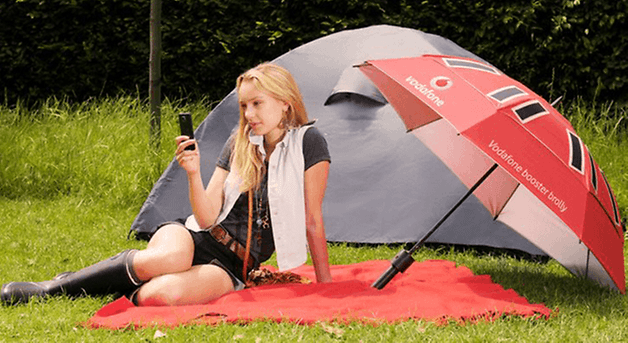 A day spent Tweeting, Facebooking and playing games on an Android is sure to drain the phone of battery life, often in mere hours. Wouldn't it be lovely if you could just magically charge your phone at a moment's notice anywhere you go? These wacky inventions promise to do just that, but while some succeed admirably others are probably destined to the dustbin of tech history. Let's take a look, shall we?
Attaching it to Your Umbrella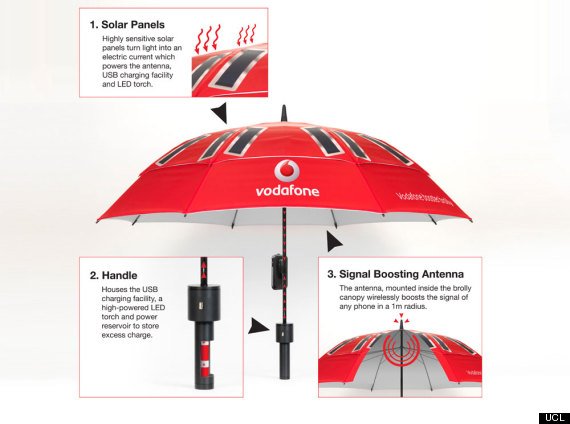 Are you a Victorian madam who will only step foot in the sun under the shade of an enormous umbrella? Do you wish you could have shade AND charge your phone at the exact same time? Have we got news for you! Vodafone has created an umbrella that can store charge for your Android while also enhancing signal reception. With 12 solar panels, it won't be long before that walk across the park has generated a significant amount of juice. Just plug your phone into the handle, and you're good to go. Hey, you may look ridiculous but no one said reducing your carbon footprint was going to be glamorous.
Hooking it Up to a Propane Tank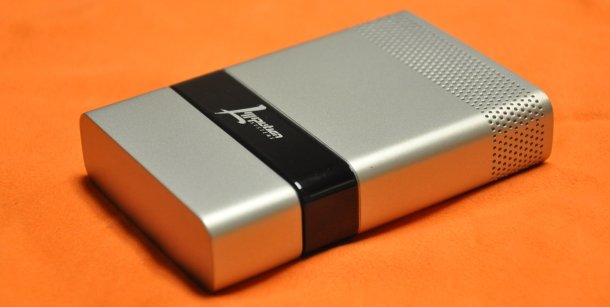 This charger utilizes lighter fluid-filled cartridges the same way as a cigarette lighter does. With a fresh cartridge, this charger can keep your phone alive for two full weeks! Perfect for a zombie apocalypse, or the next time you're shipwrecked. While packing a portable campfire in your bag might not sound very safe, these babies are TSA-approved, so you can bring them on your next flight (although can we really be sure that every TSA agent has gotten the memo?) Brookstone promised to carry these soon six months ago, so when they're available is really anyone's guess although, given the fact that it's Brookstone, you better bet they'll cost a bajillion dollars.
Connecting it to Your Bike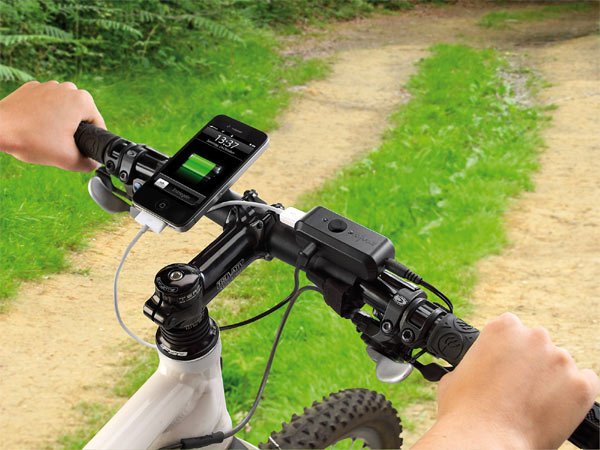 I suppose if you're really good at not mowing over dogs or smashing into poles, I'd recommend you hook your smartphone to your bike but for most people this just seems like a recipe for disaster. A company called Revolt manufactures these bike chargers, which charge your phone's battery using the energy created by the front wheels.
Wrapping it in an Ugly Case
Introduced almost a year ago, this smartphone battery charger promises to charge your phone in a mere 10 minutes. The only catch? You then have to walk around with an ugly case wrapped around your phone, making it a good 30% bulkier. I don't know anyone who would want to uglify their sleek and sexy phone just because they can't find an outlet but those folks have got to be out there, right?
Connecting it to your Campfire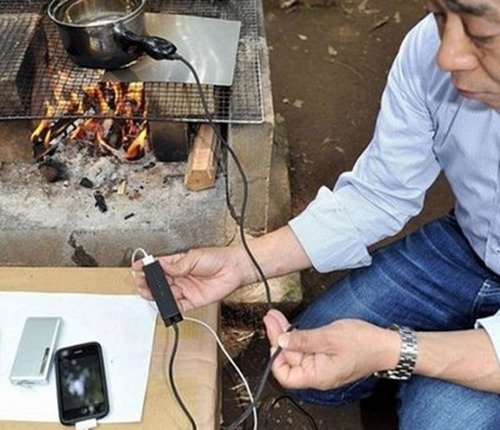 Fans of "Survivor", take note: a Japanese firm has created a device that can charge your cell phone using just a pot of boiling water. The pan charger has "a base plate covered in strips of ceramic thermoelectric material: the temperature differentials between the fire underneath and the 100-degree C water inside allow that material to create electricity, which is pumped out via a regular USB connection," according to Yahoo news. The charger could be used by those in the developing world who don't have ready access to electricity. I really can't knock this idea, which will obviously help people. This is perhaps my favorite wacky charging invention of all. What's yours?