 500,000 Android Phones Activated Every Day, Outpacing Global Population Growth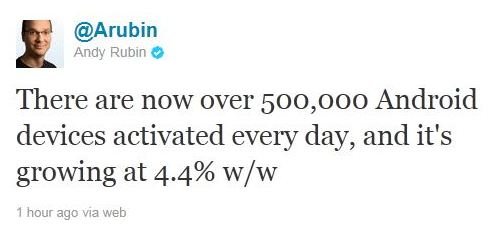 We knew Android was popular, but this is nuts: according to Andy Rubin, 500,000 Android devices are being activated every day, and at a growth rate of about 4% per week. Android Central has this to say:
That's 3.5 million Android devices activated every week. Twenty thousand an hour. Some 347 devices activated every minute. Nearly six devices activated every second.
Approximately 255 babies are born every minute, which means that if every baby received an Android, there would still be 92 more Androids activated than babies born per minute.
Androids are outpacing population growth. Woah.