86% of Developers Unhappy with Android Fragmentation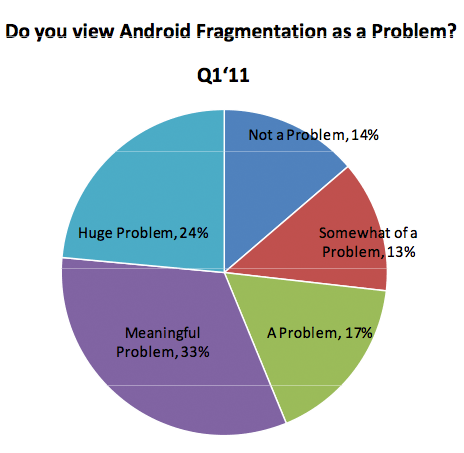 Results from a poll of 250 developers by Baird Researchshows shows developers think Android is a mess.
The study reveals that a whopping 86% of developers think Android fragmentation is a problem. While only 24% of devs described fragmentation as a 'huge problem,' that doesn't change the fact that a vast majority think changes must be made.

Other details:
Devs would prefer a uinified app store like Apple's.
Devs think that developing apps for iOS pays better.
The percentage of devs who think Android fragmentation is a problem has actually increased over the past few months.
Strangely, the news comes just as Google is beginning to crack down on fragmentation, long a problem in Androidland. Google wants to control the changes that manufacturers are allowed to make to Android, and the company is said to also want to be more selective about hardware.
I don't think these results are too surprising for those who've been following this story, but hopefully they will light a fire under Google's ass.