ASUS Eee Pad Transformer Prime Review Roundup: "All Hail the New King!"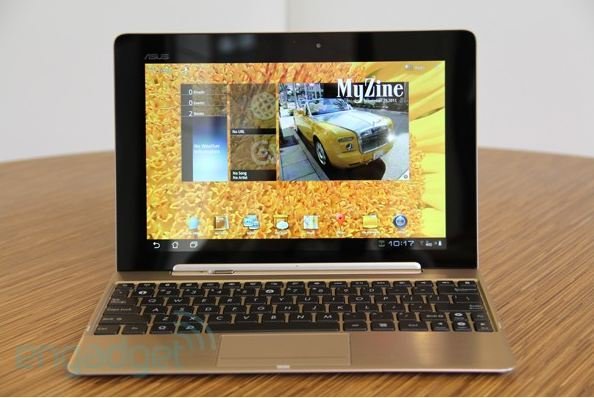 The reviews are in and the ASUS Eee Pad Transformer Prime has been making a lot of good friends in high places. Engadget has called the Prime "the best Android tablet on the market," while Slash Gear writes that the Transformer Prime "blows away the competition." Wall Street Journal's assesment was a bit more lukewarm, due to the tablets "software limitations." Still, we can't wait to buy one of these bad boys...and install Ice Cream Sandwich! Without further ado, the reviews:
Engadget
The Galaxy Tab 10.1 has had a long run as the top-tier Android tablet in the 10-inch size, but that position has now properly been usurped. The original Transformer was a very good tablet and it successor steps up another notch. The Transformer Prime is thinner and lighter than the rest and, with 32GB of storage available for a dollar under $500, it's a better deal than most of the top-tier contenders....For the moment the ASUS Eee Pad Transformer Prime is the best Android tablet on the market. All hail the new king.
Slash Gear
The ASUS Transformer Prime is without a doubt the finest Android tablet to date, and barring those with an addiction to having what they call the "widest" or "finest" app collection in the land, I've got no qualms with calling this the highest quality slate on the market today... If you're deciding on which Android tablet to get, look no further. The rest of the Android slate world has been completely blown away.
Wall Street Journal
I still believe the iPad 2 is the best overall tablet available. However, if you're looking for a model using Google's Android interface and are yearning for a well-designed, easily integrated keyboard solution, or want to play more power-hungry games, the Transformer Prime is a good choice, as long as you can tolerate its software limitations.
Have you bought one already? Are you planning to in the future? Let us know below!