AT&T to allow installation of non-Market apps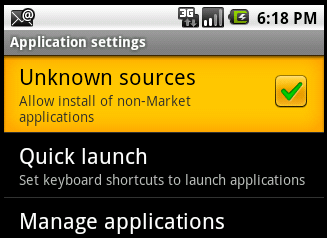 Happy news! According to a report on PCMag, AT&T plans to allow the installation of non-Android Market applications in the near future. The first device, which will allow it will be the Samsung Infuse 4G, which has just been launched.
Other devices will get an update, which will allow it on those devices as well. In the meantime, you will have to install those (tethering) apps via the Android Debugging Bride, a.k.a. ADB.
The reason for blocking the installation of apps from unknown sources is not being able to block specific apps, which may harm the device or even the network. In other words: They wanted to put the ban-hammer on tethering apps, which they couldn't charge for.
This is what Jeff Bradley, AT&T's Senior Vice President of mobile devices said:
I think we'll go more open. First and foremost we were genuinely concerned from a network bandwidth standpoint and a customer experience standpoint for not having any mechanism to take down a bad app. And the only way we could do it at the time was relying on Google to leverage what [security] they had in [the] Android Marketplace. We took a lot of negative publicity for doing it, but it was 100 percent driven by a desire to be able to have the ability to support our network and be able to help our customers. It really was.