 Acer's Iconia Tab A500 Gets Reviewed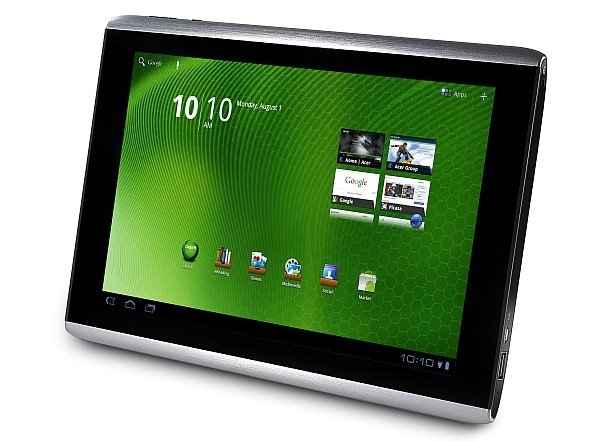 Engadget likes the brushed aluminum but can't find much more to recommend over competitiors:
All in all, the Acer Iconia Tab A500 is a solid piece of hardware, if you have to have an Android tablet right now, but we don't know if we could recommend it in good conscience over some of the competitors on offer. Honestly, we're still slightly iffy about Honeycomb itself, and the longevity of the Tegra 2 processor, given the lack of Android 3.0 apps and speed at which OEMs are adopting faster and more efficient silicon respectively. At present, ASUS' Eee Pad Transformer seems the obvious choice if you can't afford a G-Slate -- assuming prices stay the same -- but at the same time, we don't think you'll be wholly displeased with Acer's tablet if brushed aluminum's your thing. Just keep that AC adapter handy.
CNET is impressed with the price and performance but finds the device too heavy:
In spite of the $50 savings over an iPad 2, Apple doesn't have much to worry about when it comes to the Iconia Tab. Like the Motorola Xoom, the Iconia Tab is nearly twice as thick as the iPad 2, making it less comfortable to hold and less sexy in general. Acer's tablet also has the unfortunate distinction of being the heaviest Android tablet we've tested, weighing in at a beefy 1.69 pounds.
Slash Gear just likes it for personal reasons:
This is a tablet that you're going to decide on purchasing based on your love for the brand Acer, your love for the unique light aluminum back end, or your dislike of the rest of the Android tablets on the market. If I only owned this tablet and an iPad 2, would I use this tablet more often than the iPad? Personally, yes, but that's because I'm hardcore Android Community and I've gotta represent. Might someone else use the iPad 2 more? Probably. Apple has a much more massive hold over the world's perception of what a tablet should be, and if people would have to choose on the spot, they'd listen to the one that they know other people will love them for.