[Advent Calendar] Day 15: Beautiful Widget 50% Off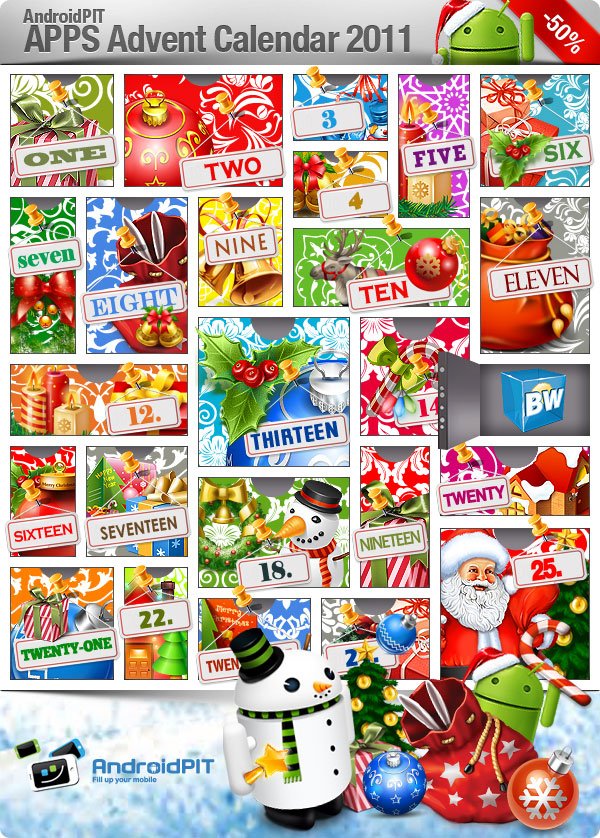 Do you like presents? Of course you do! And what's better then a present? How about 25? Well that's exactly what AndroidPIT has planed for you! Throughout December, AndroidPIT will bring you it's Android App Advent Calendar. How does it work, you ask? Each day will open a new door and whatever app is hidding behind our festive countdown will be available at 50% off the normal price! Each day just click on the calendar to automatically receive the discount.
Today's Advent App Deal: Beautiful Widget
Description
Beautiful set of Widgets containing clock widget, clock and weather widget, weather widgets, date widgets and toggle widgets with skins/themes support! Now with more widgets and layouts!

Selected by Google as an Android Editor's choice and first paid application to reach 1 million of downloads!

See why it is the best Android clock and weather widgets and the only choice for thousands of users!

Now with Honeycomb tablets support (ie the Motorola Xoom, Galaxy Tab)!

- High Definition Super Clock widgets available in many sizes and many layouts. High quality rendering and resizable with no loss of quality!

- Display either the weather, battery icon (both with skins) or just a clock on the widget.

- 5 days Weather Forecast based on Google weather or Accuweather, with Geolocation support, automatic sunset/sunrise, also available on a weather only widget.

- Weather alerts (USA only), storm/rain/snow forecasts

- More than 15 nice Weather Animations (rain, storm, etc) for your pleasure when tapping the weather icon from the widgets.

- Moon phases, actual and a calendar for the next 4/5 phases
To take advantage of our Advent App Discount, just click the Advent Calendar!