[Advent Calendar] Day Eight: Pure Messenger Widget 50% Off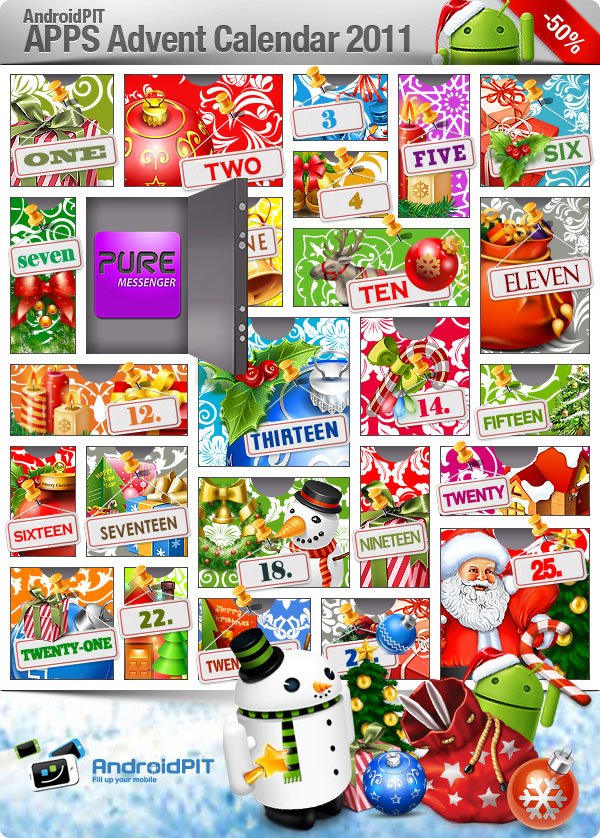 Do you like presents? Of course you do! And what's better then a present? How about 25? Well that's exactly what AndroidPIT has planed for you! Starting today, AndroidPIT is introducing it's Android App Advent Calendar. How does it work, you ask? Each day will open a new door and whatever app is hidding behind our festive countdown will be available at 50% off the normal price! Each day just click on the calendar to automatically receive the discount.
Today's Advent App Discount: Pure Messenger Widget
PURE Messenger widget allows you to show ALL or ANY MIX of:
- Gmail
- Emails (POP3+IMAP / need K9FP)
- MMS/SMS
- Facebook
- Twitter
- Calls

Features :
- manage multiple widgets with different configurations
- scrollable widget with most alternative launchers like ADW, LiveHome, Go Launcher Ex or LauncherPro
- 2 different widget layouts (normal with 1 full message body / list with multiple message) with multiple sizes
- many skins to make a fancy widget
To take advantage of our Advent App Discount, just click the Advent Calendar!