 Android 3.0 SDK and platform highlights now available
Google knows we're all eagerly awaiting Honeycomb and the tablets associated with it so they've finally released the SDK for 3.0 so developers can start cooking up apps. Along with that comes a lenghty description of some of the key features of the new OS that may not have been discussed at its launch during CES. Read past the break for an analysis of what's in there that may get you excited.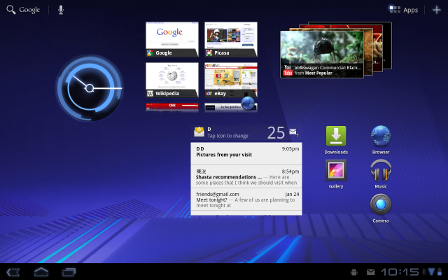 Above you see the new redesigned home screen. On the bottom you have the System bar that's always present giving you soft navigation buttons and access to notifications and the system status. There is a "lights out mode" that dims the bar for full screen applications and video viewing. On top, you have the Action bar that gives access to contextual menus: on the homescreen you have the search widget, app drawer and customization icon (the "+"), inside email you have reply, forward and other options and when selecting text you get cut, copy and paste. This really provides developers with a unified playground to integrate functions in one place and use the middle space for context visualization and more.
Widgets are now scrollable, giving you access to popular Youtube videos, your eBook and picture galleries as well as bookmarks and more. The browser natively supports tabs, though there are many alternatives out there that have done so for quite some time. Multitasking has also been revamped, with recent apps now showing previews of their state when last used. I'm still not a fan of having 'recent apps' rather than 'currently open apps' be shown, but maybe a launcher alternative or manufacturer UI will change this.
Two important aspects of tablet usability have also been reconsidered and enhanced. Copy and paste now has the same functionality seen in Gingerbread, where long-pressing a word will select it and bring up 'bounding arrows', a sort of market, that'll let you select text more easily. The keyboard features larger buttons with a more simplistic design to ease the burdon of touch-typing on a large screen. I would have been happier if the keyboard spanned the whole width of the screen with relocated function keys, but I guess the learning curve associated with the new positioning would be slightly annoying.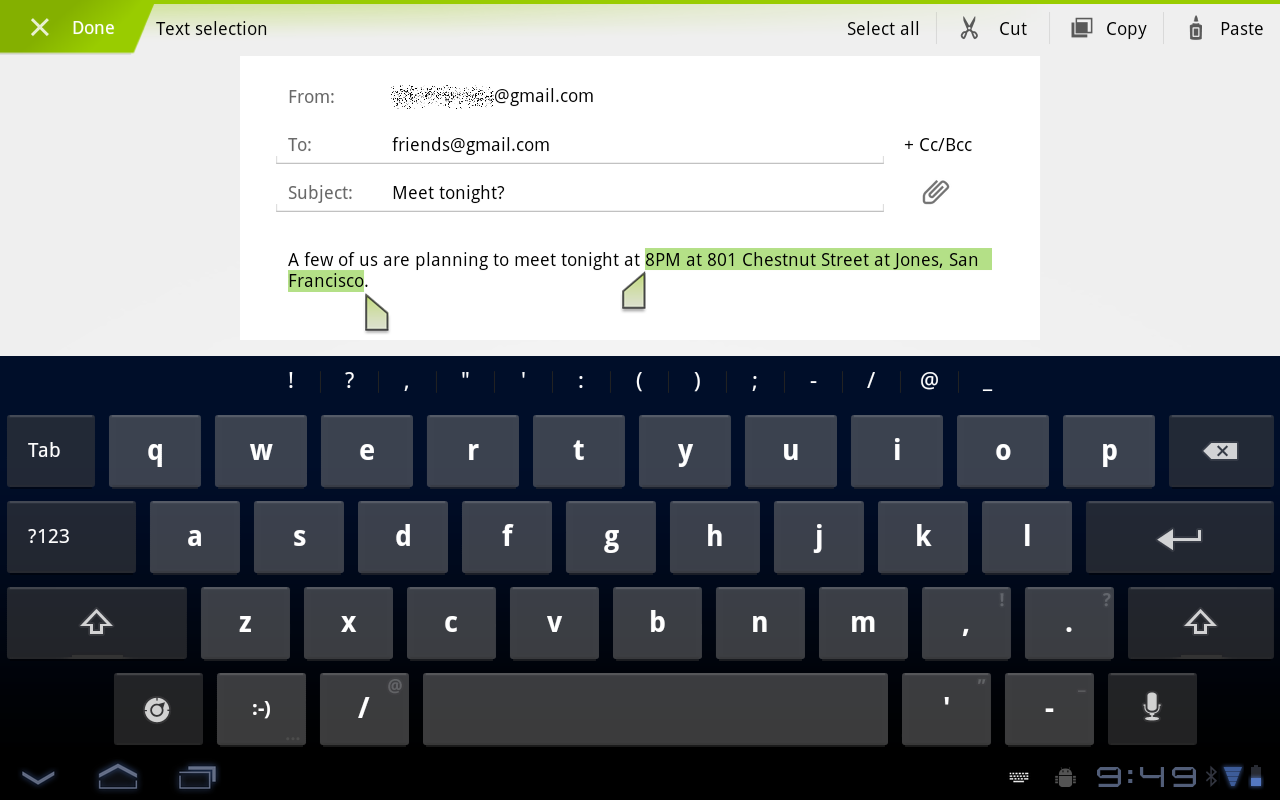 Another interesting addition is DRM "that lets applications manage protected content according to a variety of DRM mechanisms that may be available on the device." This means that services like Netflix and Hulu that were reticent about releasing Android versions of their apps should now jump on the Android hype knowing that their content is protected. As much as I don't like DRM as a concept, it's exclusion just meant that users weren't getting the full experience that they deserve, so I'll take it.
Also included are some enterprise features such as "policies, including policies for encrypted storage, password expiration, password history, and password complex characters required." Google is acknowledging the fact that enterprise users will sooner or later start using tablets for work so they're off to a good start.
You can read my coverage of the official launch of Honeycomb at CES here for more in-depth analysis of how stuff works now and read the official highlights here for other features of interest.
Pictures: Android Developer site