Android Market Introduces New Review Sorting Tools, But Are They Actually Helpful?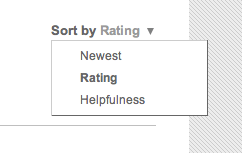 Well, you have to give Android Market a bit of credit. While the site is slow to respond to consumer wishes, at least it eventually caves in. Today brings much needed organizational-options to the reviewer threads on all apps. Now, instead of just seeing whichever review the cat dragged in, you can sort comments by
newest
rating
helpfulness
But do the new changes actually help you assess an app before downloading?
We're still not sure what computational matrix Google uses to calculate review helpfulness, but in the short time using the new feature we found most reviews deemed by Google to be actually helpful, except for a bit of spam that somehow evaded Google's filter. Still, this "option" isn't really a change from the first reviews you'd usually see when browsing apps. Sorting reviews by star ratings seems less desirable, as you have to scroll through acres of reviews to get to the 4,3,2 or 1 star-rated reviews. Sorting reviews by "newest" would only be helpful if you wanted to see if there was a bug in a recent version.
Overall, while re-organizing reviews is a worthy endeavor, this update seems weak. It looks nice on the screen but just isn't functional. Click on the button "read more reviews" under your app of choice to enable it, and let us know what you think below.
Related:
Android Market Aims to Become Number One App Store: App Size Limit Increased, Top Charts, Phone Blacklisting and More..

[Review] Spiffy New Categories and an Improved UI: Android Market App Gets a Facelift