 Android Market Now Allows You to Filter Content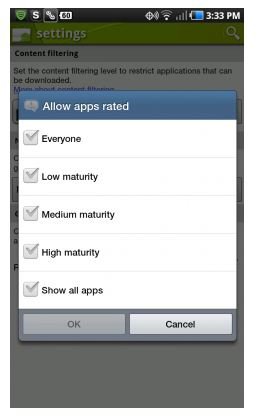 (The App Blocker!)
Yesterday we brought you news live from the Android Market Session at Google I/O and revealed to you the updates to the market, including lists that rank the top grossing apps, top trending apps, and -- perhaps most importantly -- Google's expansion of maximum app size from 50 MB to 4GB, which should definitely improve the selection of quality apps on the market.
Now we've just got word that the new Android Market will also feature content filtering, allowing parents to block questionable content from their children's precious eyes.
Like video games, apps will be sorted by a rating system:
Everyone
Low maturity
Medium maturity
High maturity
Show all apps
We're not sure if there are any far-reaching implications for this change, but it'll definitely position Android Market to appeal to parents.