Is Tech Crunch Accepting Ad Money from Evil Android Spammers? Remember yesterday's story about that Japanese carrier that was spamming their own customers with advertising in their notification tray? Well, the company that helps advertisers stick their ads in your phone's nooks and crannies is called AirPush, and the company is doing so well it has bought a banner ad at the tippy top of Tech Crunch's homepage. Now, this is the same Tech Crunch that has railed against push notification ads, which are annoyingly sent to your notification tray. What, exactly, is going on here? Is Tech Crunch in bed with the enemy?
Probably not. After I had about .005 milliseconds to think about what I was seeing, I realized that the ad was brought to me by Google, not Tech Crunch. Somehow Google's algorythms calculated that this was the appropriate ad to show me, even though I absolutely despise this kind of in-phone advertising. Still, the fact that this evil ad network has the cash to advertise on Tech Crunch is worrisome. Airpush seems to be rolling in dough.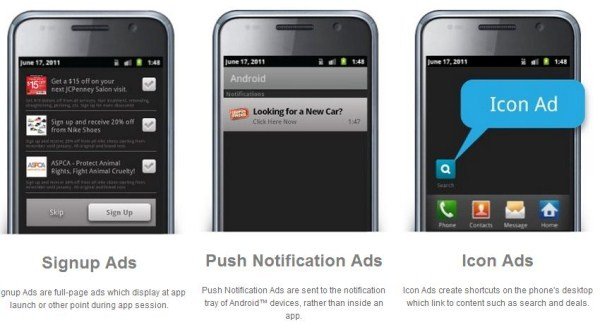 I sincerely hope that the future of advertising does not lie in notification tray ads. I know that tons of free apps on Android Market get their revenue purely from in-app advertising, but when the ads are placed outside the confines of the app, it crosses a big red line. Hopefully advertisers can find more creative solutions than spamming our phones.