Android vs. iPhone by State: Which One Rules Your Hood?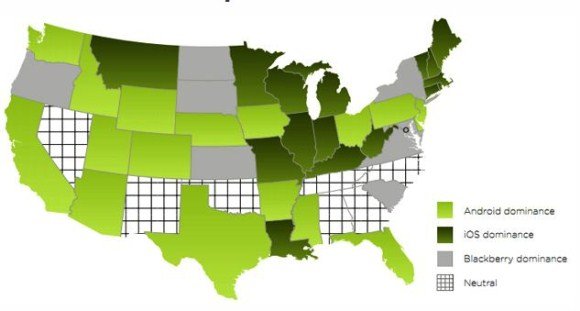 Is there any truth to the cliche that Android users simply don't have the money to buy an iPhone?
Well, we can't be sure either way just from looking at this state-by-state comparison of dominant OS platforms, but it seems Androids are popular in both rich and poor states, with no correlation between OS-use and income rate.
From the map it also looks like Android is generally more popular in Southern states like Texas, Florida and Arizona, while iOS reigns in the colder Northern region. One exception to this rule is my hometown Seattle (Seatown represent!) which swoons for Droids. Notice that a few of the biggest states, population-wise, seem to be dominated by our green robot friend; Texas, California and Florida have all the heavy concentrations of Androids.
One surprise is that it appears Blackberry dominates in New York– a big market for a platform we thought was rapidly losing steam. Though when you consider how many business folks live in this area, perhaps it makes sense.
Just for fun, let's compare the map to the red-state, blue-state map of the 2008 election: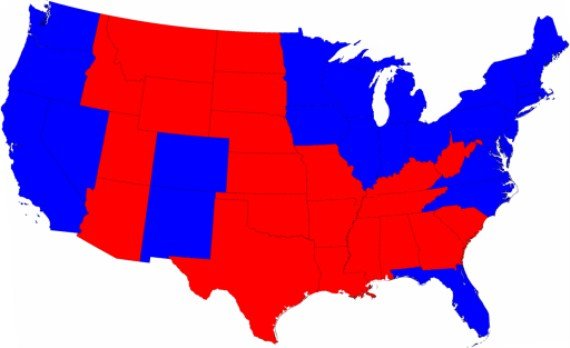 Looks like Android is popular in both heavily Republican (Texas, Arizona, Idaho) and Democractic (Washington, California, Ohio) states.
Are we reading too much into this chart? Totally. We also couldn't find the data behind it (going to JumpTap's website simply leads us to a subscription-only report) but it's fun to think about anyway. Do you live in an Android-dominated state? Or are you surrounded by Apple-lovers?