AndroidPIT Live At MWC For Sony Press Conference!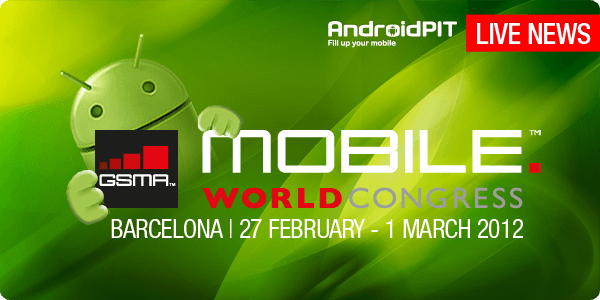 We're live at MWC and will keeping you up to date with all annoucements made at today's manufacturer press conferences! Be sure to check back reguarly, as we will be updating our live feed to cover any annoucements that are made. Next up is Sony, and we're here live waiting for their announcements!
19:28PM Seems like thats all from Sony. 3 new phones, all dual core under the Xperia product line.
19:28PM "Please join us now to play with the phones, watch, and listen".
19:27PM "We will soon lauch the largest marketing campaign that we have done in many years".
19:27PM "Sony Xperia are made of more than hardware, but also imagination, curiousity, and the belief that dreams can become reality". (oh lord)
19:26PM "These are the first Sony smartphones".
19:26PM Xperia U will ship in the middle of Q2 this year
19:25PM Pretty cool notification light! It changes with the color of photos and music. Pretty smart!
19:24PM "The Xperia U is Sony Entertainment in a compact design. 1ghz dual core processor with 3.5 inch display. 5MP camera".
19:23PM Xperia 3 will rollout in middle Q2
19:23PM Xperia Smartags! Thats pretty cool!!!
19:22PM "Xperia P also features NFC and Xperia Smartags".
19:22PM "Xperia P features an 8MP camera and full HD video recording. If you place it into smartdock, you can turn it to a media center. With HDMI it can be connected to your TV".
19:21PM "Xperia P: Aluminum unibody. 4 Inch display. First phone to feature Sonys new white magic display technology, for twice the better picture in bright sunlight. This is the smartest and brightest display on the market today".
19:20PM "The Xperia S - 4.3 HD display with 342 pixels per inch. Can capture full HD video with front cam for HD video chat. 12MP camera. You can also enjoy new Playstation content, and the phone can be connected to the TV for gaming on your television".
19:18PM "All Xperia phones we will show today all have powerful dual core processors".
19:17PM Have I mentioned these phones look like MP3 players?
19:16PM "We are very proud to have been recognized for design, and Xperia was awarded an IF design award a few weeks ago. This new design is a minimalistic approach between hardware and software.
19:15PM Steve Walker (chief marketing officer) is now taking the stage to discuss the phones.
19:15PM WOW..These phones look like mp3 players
19:14PM "Now Im pleased to present the Xperia P, and Xperia U".
19:14PM Recap: 2012 saw Xperia MX with the Acro HD coming soon. CES showed first Xperia Sony brand ION (LTE). Tonight we are happy to announced the Sony ION will launch outside US this year. Xperia S also starts shipping globally now. Consumers can get them first in Barcelona in Sony store.
19:12PM Love that Android plug :-D
19:12PM " I dont need to tell you about Android growth".
19:11PM "Sony is a real content powerhouse, and its the first time in my career that I can say I work for a company that wins grammys and oscars".
19:10PM **talking about how great Xperia smartphones are and how they sync great with other Sony services**
19:10PM "I will spare no effect to ensure Sonys success". Bert now taking the stage again (wtf was the point of that dude coming out?)
19:09PM "We will revitalize our portfilio".
19:08PM ......hes just talking about how awesome their services are right now...get to the good bits Sony.
19:07PM "Sony will aggressively execute our mobile strategy and strenghthen our core business.
19:06PM "We will integrate more services together by combining digital assets with our smartphones".
19:06PM I would like to explain the significance of Sony Mobile Communications. 1. Strenghen core business. 2 Turn around TV business. 3. Transform portfolio. 4. Drive core businesses.
19:05PM The new CEO of Sony Ericson taking the stage. As of Feb 15th, Sony Mobile Comms has become a subsidary.
19:04PM Tonight, we are kicking off a new exciting chapter for our company to inspire consumers around the world.
19:03PM Here it goes! Sony CEO taking the stage.
18:48PM 12 minutes til it starts! Apolgies guys...invitation said it started at 6, but thats just when the doors opened. The speeches apparently dont start until 7.
18:45PM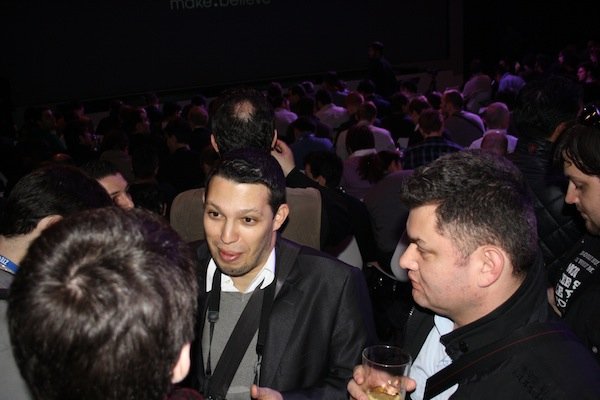 18:36PM Music still playing, and a few hundred people still waiting to get inside. **sigh** Waiter....MORE WINE PLEASE! :-D
18:35PM Sony is trying to get us drunk! Their handing out olives and wine and water. I feel like royalty :-D
18:31PM So far, it seems Sony did a WAAAAAAAY better job of organizing their event than Huawei, BUT, we had to wait in line 20 minutes for Sony, so it kind of balances out.
18:29PM Music is playing...is it finally getting started?
MWC is here, and a day before it kicks off officially, AndroidPIT is live to cover todays manufacturer press conferences. Stay tuned to see all annoucements, release news, and product unveilings, all live as it happens here at AndroidPIT! Sony press conference coming up next!