New in the AndroidPIT Forum: Social Buttons! Some of you may have noticed that there is now a special new feature in AndroidPIT's forum. From now on, under the name of some members of our AndroidPIT community, you will see one to four buttons for various social networks. Why is this special feature different from user to user? Because whether or not users get to show off their YouTube, Facebook and Twitter account depends on how often they post!
100+ comments snags you a Google+ button
250+ comments snags you a Google+ and Twitter button
500+ comments snags you a Google+, Twitter and Facebook button
1,000+ comments snags you a Google, Twitter, Facebook and YouTube button.
Why are we doing this? We wanted to reward especially active members of our community the option of linking their personal accounts to their AndroidPIT account, so you can get a sense of who they are outside the world of AndroidPIT, or promote their OWN website. We also hope that this will provide an incentive for users to utilize our forums even more than they're doing right now. The social buttons look like this: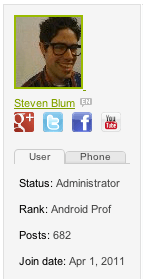 Right now the buttons are displayed automatically but we are working hard to make it possible to also turn off this feature, if you'd like.