 App Controversy: Jew, Not Jew, Who Cares?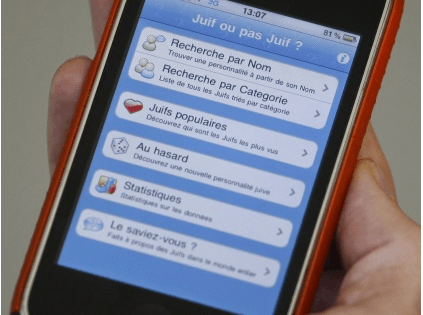 Fierce Mobile Content recently wrote an opinion piece on the most offensive apps in Android Market. The offensive apps in question include one that advocates reparative therapy for gays, another that glorifies dog fighting and yet another that analyzes your facial characteristics and determines if you're ugly. These are all quite offensive or, in the case of the "ugly app," dumb ways to make a buck from Android owners. But, while I understand the controversy over the app "Jew or Not a Jew" and can even understand why it was pulled, I don't understand why it made the list of the top five most "offensive" Android apps. That is, unless you somehow think calling someone Jewish is offensive.
Is there something inherently racist in pointing out someone's differences, whether they are racial or religious? While I can certainly understand why Jews in vulnerable places like Iran (thousands still live there!) or even areas of France would want their identity hidden for fear of anti-Semetic attacks, how is knowing the fact that Lea Michelle, one of the singers from Glee, is Jewish somehow akin to that? After all, anyone with an Internet connection can easily find out which celebrities are Jewish. And what were the French authorities worried about exactly when they pulled the app? That someone is going to stalk Barbara Streisand? Isn't she used to that by now?
The offensiveness of the app is that people would somehow attach a negative connotation to being Jewish, which is something the app does not actually do. Others could argue that pointing out the fact that someone is Jewish is actually racist. Neither argument makes sense to me. Would there be an uproar over an app that asks if celebrities are Brits or not Brits, Welsh or not Welsh? Actually, many Hollywood actors, including Jim Carrey, Michael Cera, Seth Rogan William Shatner, Ryan Gosling and Keanu Reeves are Canadian. Where's the outrage over that?