App Give Away Round 1 Winner Selected; Round 2 Begins Today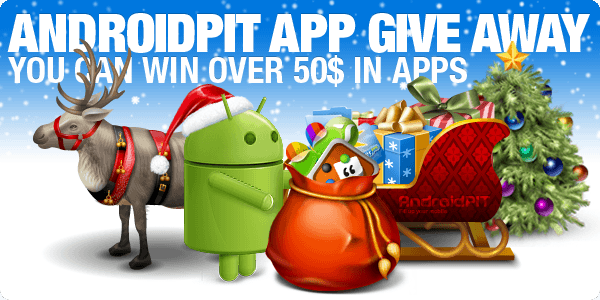 Round one of the AndroidPIT App Give away is over and a winner has been selected. AndroidPIT member Sinclair M. has been selected and will be receiving an email in short order with his gift code and a thank you from the editors at AndroidPIT for helping making our community one of the biggest and most diverse Android communities online.
If you didn't win this week don't worry about it! There are still three more chances to win $50 in App Center credit before Christmas. Details after the jump!
The Contest
Throughout December, the English editors at AndroidPIT will be combing both forum and blog and keeping a list (we might even check it twice) of all the best comments left by the loyal members of the AndroidPIT community. At the end of each week, we'll put our heads together and decide who's left the best, most entertaining, informative, interesting or downright strangest comment on any of our blogs or forum posts. Whoever the fates smile on that week wins $50 in App Center credit.
Winners will be notified each Friday and officially announced the following Monday. It's as simple as logging in a leaving a comment. So limber up your fingers and tell us what you think about just about anything going on in the Android community. Of course, the more often you comment, the better your chances of winning are. But remember, quality counts! So be funny, informative and innovative!
Oh and just in case you don't have an account you can still register with AndroidPIT. It's free and only takes just a few seconds!