Apple Officially Responds to Tracking Questions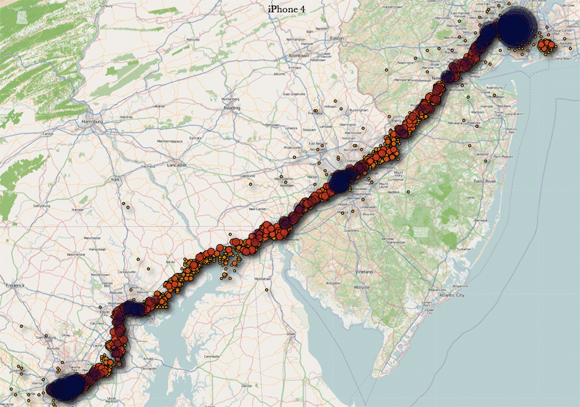 Yesterday we ranted about how Steve Jobs was failing to adequately respond to legitimate questions about the iPhone tracking users' whereabouts and today Apple finally released statements on the matter.
According to the press release below, Apple is "maintaining a database of Wi-Fi hotspots and cell towers around your current location" to help your iPhone rapidly and accurately calculate its location when requested. So the map you're seeing is not the cell phone's whereabouts but, rather, the locations of Wi-Fi hotspots and cell towers surrounding the location of the cell phone. Comforting? Perhaps not so much.
Why not just use GPS? The company says it takes too long and isn't always available.
As to why the data is needed in the first place, Apple maintains that it's strictly in order to built a crowd-sourced traffic database to provide iPhone users with "better traffic service in the coming years".
And as to why the data needed to be stored on iTunes, we receive no official answer, although Apple says it plans to "cease backing up this cache" in a software update coming soon. They also promise to stop saving years' of location data on the phone itself, limiting the phone's cache to a week.
One of the biggest questions users had was why the location-based services were impossible to turn off. Apple maintains that this was a bug, although it's really hard to imagine a bug of that magnitude going unchecked for so long. The company promises users will be able to turn off the location-based software soon.
So, all in all, this is some clever damage control. While it may be true that Apple isn't using any of this information for sneaky reasons, it seems clear to me that, at the outset, they had no intention of allowing users to disable this feature. While it's nice that users can turn it off now, it's a little late.
Full press release available by clicking the link to Engadget below.