Apple Says It's Created 514,000 American Jobs – Including Postmen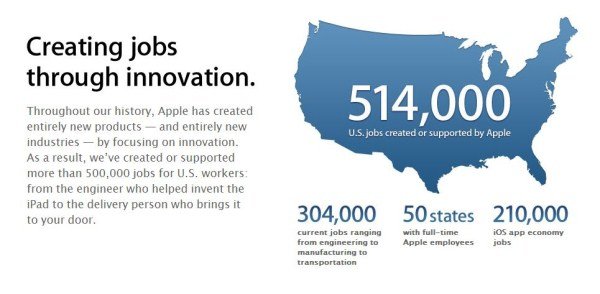 Apple, in response to growing opposition to its foreign operations, has released information about how many jobs the company has created in the United States. 514,000 is the – grossly inflated, in my opinion – number the company has released. And no, they're not joking about it.
Apple directly employs 47,000 Americans at Apple stores and at Apple headquarters, but the company has expanded that number to include folks employed in the "app economy" – even the people who design the trucks that take iPads to stores have been included in the final tally. "Wow" is all I can say to that last one.
Why did Apple randomly release this information on their website? Well, I think it can all be traced back to a certain infamous report by the New York Times about the number of foreign contractors Apple employs in the creation of their iPhone. Not surprisingly, many of those workers are employed by the Foxconn company, which employs almost 1 million people worldwide (!) Compared to that number, 47,000 Apple employees looks puny – hence, the reactionary press release from Apple.
According to leading economists, like David Autor at MIT, claiming "direct and indirect" job creation is "disreputable," because most of the workers Apple is taking credit for could have been employed elsewhere if Apple didn't exist.
Workers at the Chinese factories were iPhones are made are said to be forced to stand during much of their 12 hour shifts, with few breaks and exposure to toxic chemicals, so it's debatable whether or not Americans would even want these kinds of jobs in the U.S., but shaming Apple for throwing these jobs overseas is still popular in the mainstream media.
Manufacturing the iPhone or iPad exclusively in America would be a great PR move, but would probably hurt Apple's bottom line in the end. Better to just pretend they've been creating tons of jobs for Americans all along. Oh, and by the way, Android devices are also produced overseas, so let's not be hypocrites here. It's just Apple's poorly-thought-out defensive strategy that I don't like.