Oh No They Di'int: Apple Successfully Patents NFC Payment System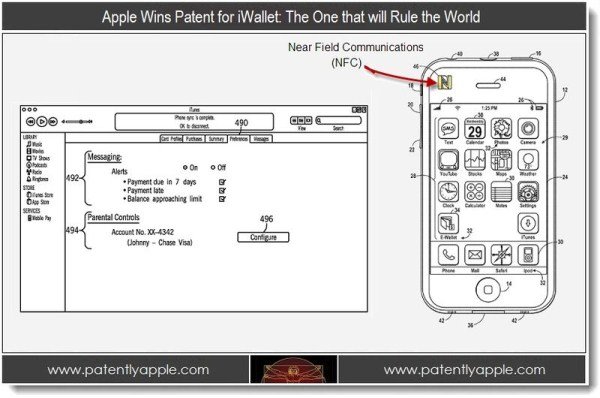 Well, well, well. What do we have here? Why it's yet another Apple patent for something that's already been around on Android for a while now. This time, Apple has just been granted a patent for a mobile payment system. The patent demonstrates "the position of an embedded NFC-payment chip" in the iPhone, as well as a tab in iTunes that lists notifications for prepaid cards, upcoming payments and "parental control."
At least that last part sounds vaguely innovative, but let's remember that NFC debuted stateside on the Nexus S 2 years ago. That said, there are some innovative ideas in this patent application that would allow the iPhone to restrict payments outside a specific location or restrict payments above a certain transaction amount. The patent was filed two years ago, around the same time the Nexus S first debuted.
It should be noted that this patent application may not mean that Apple is actually planning on integrating NFC technology into the iPhone 5. Apple often liscences their patents to be used by other companies or just to keep their options open. In other words, the patent application could very well be grounds for suing another company or just as something nice "to have around."
Google has no patent for their wallet program, partly owing to the fact that NFC systems had been around in other countries (like Japan and South Korea) before the debut of Google Wallet, and Google's interface does not necessarily innovate beyond what's already been done.
With threats from Isis and now iWallet, Google's Wallet app looks more and more at risk of being drowned by competitors, some of which may even be able to level lawsuits against them. I think Google Wallet may not last too much longer.