 Apps trump mobile web among Smartphone users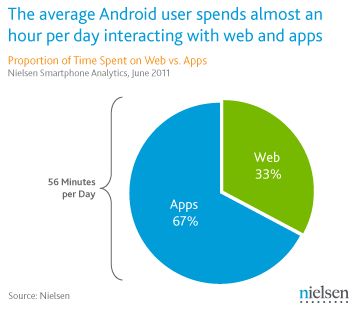 App or mobile web? That is the question! When Android users pull out their favorite mobile device to call up their email, check out the newest Facebook buzz or find out the latest news on AndroidPit, they're faced with a choice: Do I use mobile web or a specialized app to get the job done? According to Nielsen wire, one of the largest consumer report agencies in the world, for most Android fans the choice is clear: in this fight apps are king.
Data from their first ever Smartphone analytics report showed that Android users spend around an hour a day online with a clear majority of that time spent on mobile apps.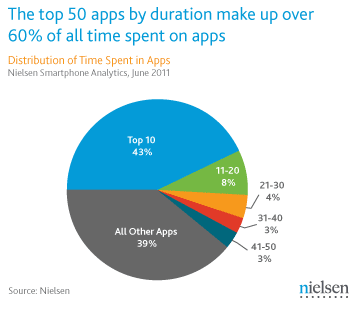 While, if you ask me, we can do better then just an hour a day, but the real surprise was in which apps made up the majority of access time. The top 10 most popular apps on the market made up a whopping 43% of the time spent online and the top 50 best-selling apps took up over 60% of user attention. That means the other 249,950 (give or take) had to compete for the 40% of the time we weren't sending in Facebook (or AndroidPIT) With so much choice out there, whats with the lack of love for smaller apps (and their developers)?
Do you have an app that deserves more attention? If so I want to know about it. Hit me up in the forum or in the comments below and tell about the apps I should be using.