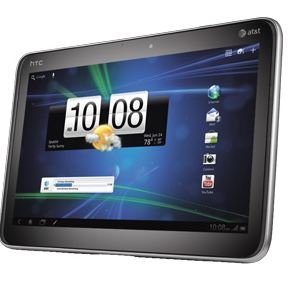 Damn, that's one expensive tablet. Apparantly the HTC Puccini will be landing on AT&T for $700 on a two-year contract as the HTC Jetstream. For that price, you'll be getting AT&T's first 4G LTE tablet and the carrier's first Android 3.1 Honeycomb device. The LTE netowrk is espected to go live in five markets this summer, but the tab will also be compatible with the carrier's HSPA+ network
Jetstream will offer a 10.1-inch WXGDA HD touch screen, a 1.5 GHz processor by Qualcomm, rear-facing 8-megapixel camer, and a 1.3 megapixel camera round the front. A stylus will come standard.
Why so expensive, though?