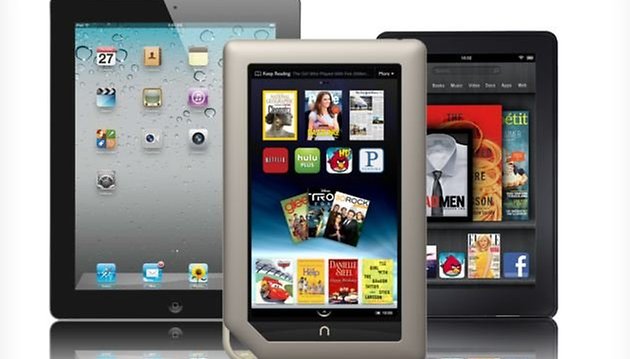 Battle of the Displays: Kindle Fire vs. Nook Tablet vs. iPad 2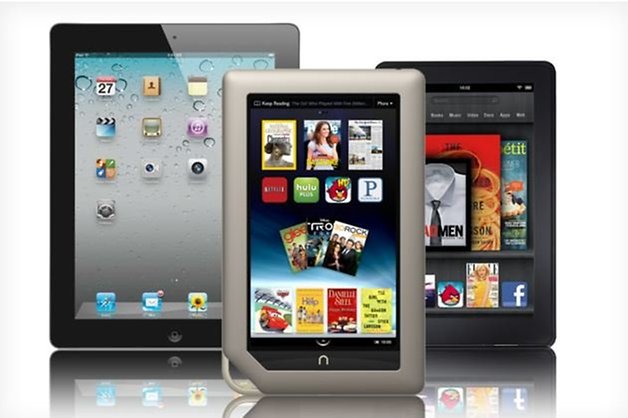 Respected display tech firm DisplayMate has published a very thorough report comparing the displays of the Kindle Fire, Nook Tablet and iPad 2. The company used the tablets under various lighting conditions and measured how well they performed. The iPad 2 was used as the benchmark, since it has "an excellent display, virtually identical in performance to the impressive iPhone 4 Retina Display." It also gets high marks for displaying "bright images with excellent contrast, reasonably accurate colors and very good Viewing Angle performance."
Compared to the iPad 2, the Kindle Fire doesn't look so hot. In fact, DisplayMate described the Kindle Fire's screen as having "the highest reflective levels," they'd ever measured, despite its anti-reflective coating. DisplayMate claims the display is 70% more reflective than the iPad 2, and double that of the Nook Tablet. The report also says that the native gallery app displays photos that seem "over-exposed." In fact, while Amazon claims the display can achieve 16 million colors, the Gallery app actually only displays 65 thousand colors – a far cry from what's advertised.
The Nook Tablet's display comes out looking much better than the competition – especially for its price. DisplayMate calls it one of the "least reflective tablets" they've ever tested. Its grey-scale is also judged so well that DisplayMate claims its more accurate than "most living room HDTVs".
Overall, it looks like the Nook Tablet offers the best display, even beating the iPad 2! How's that for a surprise?