 Best Android Apps: 20 Must Have Apps For Your Smartphone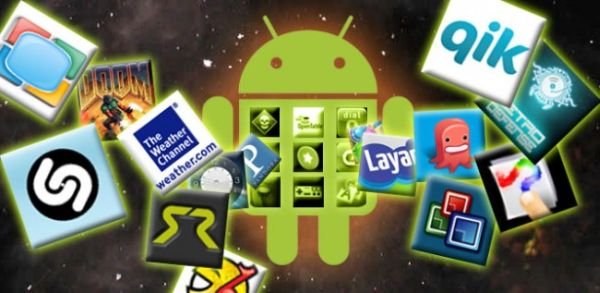 At AndroidPIT, we often get asked which apps for Android are our favorites. But with over 40,000 apps, it's hard to separate the cream from the junk-ware crop. Our resident App-Meisters, German Editor Kamal and Spanish Editor Francisco, recently dove into the fray and picked out the 20 apps you should be using. If you're just getting started with Android or even if you're already an Andy Pro this list has something for you.

1. Instant Messaging: Whatsapp
A well designed and effective app for free texting and instant messaging. Not to mention that you can add media in most popular formats allwowing you too get around pesky MMS costs. If you want to text but don't want to pay texting fees all you need is a data flat rate and this app and your texting is on the house.

2. Browser: Dolphin Browser HD
We still don't know how Chrome for Android is going to turn out but making up in the meantime we have Dolphin Browser HD. Easy to use and easy on the file size, Dolphin is a good alternative to the standard Andy browser.

3. Twitter: Twidroyd Legacy
There are a lot of Twitter-Apps for Android, but Twidroyd is one of the best on the market. A nice system for displaying Tweets, buttons for answering, direct messaging, commenting Tweets and posting your own micro blogs make this a simple must have for all Android twitter fans.


4. Multimedia: Meridian Media Player Revolute
If you know Android you know the factory multimeida play left more then a little to be desired. But thank fully there is Meridian Media Player Revolute flush out the Android system. The free app can play almost every file format under the sun and even allows you to edit ID3 tags and plays subtitles in videos. It's an impressive package for a free app if ever I did see one.
5. File Manager: Astro File Manager

It might sound funny but Android doesn't come with a file manager preinstalled. That's where Astro File Manager comes in, allowing you to quickly and eaisly manage all your files on both internal memory and SD cards

6. The pinch hitter: A Super Box
As the name already implies, App, this app can do it all. If you need an all around tool box for your Android that gives you information to battery use, data use, file structure, running apps and even comes with a built in file manager then this is the app for you!
7. Office und PDF-Dokumente: DocumentsToGo und Adobe Reader

At around $15 this app isn't cheap,but it is powerful and can turn your mobile into a mobile office. Need a Microsoft officer replacement? This is your app. From Powerpoint to Word to Excel, this app can do it all.

8.To Do/ Productivity: Tasks
Since our cellphones became the modern PDA, staying on top of your schedule with your mobile has become more important then ever. This app helps where your old calander leaves off, not only letting you create to do lists and schedules but also commenting them with standard notes or even voice controls.

9. Translation: Google Translate
Of course sometimes the translations leave a little to be desired, but if you're on the go there's hardly a better app for last minute translation help. Don't try to translate a term paper with it, but if you need help getting around in a strange country Google Translate is the way to go.

10. Notes: Evernote
Hands down champion is Evernote, helping you create notes with just about every additon you can think of: pictures, links, etc If you set up an account, your notes are automaticlly saved in the cloud meaning you have access from every phone, every tablet, every computer you have access to.


11. Data Use: DroidStats
If you don't have a data flate rate but still like to text, download and stream your media, it's a good idea to keep an eye on your data usage. DroidStats not only lets you track your data but also lets you create usage goals and limits to help you keep on track.

12. Battery life: Battery Widget
If you want a better handle on your battery charge, life, usage and how long your phone will go on a single charge would do well to download this simple but effective app.

13. Bluetooth: Bluetooth File Transfer
Not all phones are created equal when it comes to blue tooth transfers as must user probably know. To avoid the hastle caused by bloatware or poorly designed UI's give BlueTooth File Transfer a try. It allows you to manage your transfers and get track of files stress free.

14. Voice Recording Tape-a-Talk Voice Recorder
If you like taking voice memos wit hyour smartphone then Tape-a-talk is the app for you. With a series of different setting for recording quality, recording bite rate and lots of extras for better play back and storage, this app is ideal for people looking for a custom voice memo app. The pay version offers additional functionality as well.

15. Weather and Time: Sense Analog Clock Widget
You have to admit one thing about HTC sense: the analoge clock and weather widget is effecent and cool. But if you're not lucky enough to have an HTC device and still want the weather widget, then download the Sense Analog Clock Widget right away. The widget has a vareity of skins to choose from so you're sure to find something that fits your personal style

16. What's that song?: Shazam or SoundHound
How many times has this happened to you? You hear a song on the radio or in passing and you love it, you just can't think of what it could be. Well those days are gone Shazam and Soundhound can identify the song after only a few seconds and make sure you always know what you want to hear. Combined with SoundHounds online radio, they're an unbeatable combo.

17. RSS Reader: gReader
This app is as basic as you get but that's exactly what you want in an RSS reader. It's simple, easy to use and doesn't get in the way of the content you want.

18. Tethering: PdaNet
Ever heard of Thethering? No? Then it's about time. "Tethering" is using your cell as a portable wifi hub for your PDA or laptop. PdaNet makes it possible and easy at that. As a bonus it also adds a text messaging service so you can text your friends from your laptop.
19. Photos: FX Camera

If you like to play around with your Android camera as much as we do but want a nice pallet of effects to play with check out FX Camera. Effects like ToyCam, Polandroid, Fisheye or SymmetricCam let you get more creative bang for your buck with your smartphone. But there is a down side: You need an SD card.

20. Video Calls: Tango Voice & Video
Do you want to see your conversation partner and not just hear their vocie? Do you have a data plan and can't download skype? Then check out Tango Voice & Video. Most stable video conferencing on the market!
That's our list of the most essential Android Apps as chosen by the editors at AndroidPIT. Did we miss some of your faves? Let us know by commenting below!