Family Planning – Which Carrier Has the Best Unlimited Family Plan?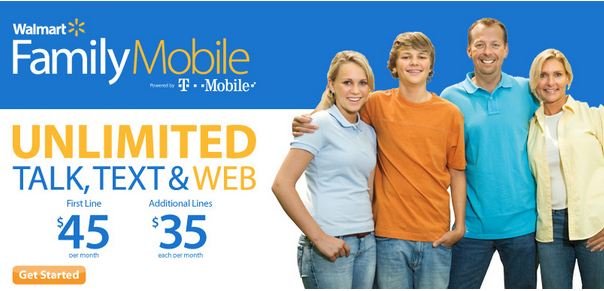 Today T-Mobile and WalMart unveiled a new family plan that offers ulimited text and web for just $45 for the first line and $35 for each additional line. This translates to around $80 for the first two lines, or $115 for three lines. Even better, there is no contract involved.
The plan sounds great, and it is, but there are a few catches. For one, the plan only offers 3G speeds. So if you've got a data-hungry 4G phone, you may be SOL. Those who sign up before March 16th will get 5GB of 3G data per month, but those who sign up later will have to settle for 250MB. Not so unlimited indeed. AND you've got to buy the phones for the plan at full price.
Still the plan sounds good for families who don't use lots of data and who don't want to get locked into a contract. How does this "unlimited" family plan compare to other carriers? Let's take a look!
Verizon's Family SharePlan is steep. Customers have to pay $69 for two lines – and that's only for 700 combined minutes. An unlimited plan will cost you $119.98 for two lines plus $49.99 for each line after that. So, for a family of three, the cost for an unlimited plan is around $170, and there's no Internet included. Add in 5GB of Internet for $50 and you're looking at a $220 Family Plan...almost twice the cost of T-Mobile's!
Sprint's Simply Everything Family Plan offers unlimited minutes for two lines for $189.98. If that sounds steep to you, well, it is but we're talking about truly unlimited data here, no capping. Add in a third line and the price balloons to $280. Yes, you'll be paying through the roof but at least you can use as much Internet as you'd like. This is definitely the most luxurious plan.
AT&T's FamilyTalk Phone Plans offers an unlimited plan that startts at $119 for two lines and $49 for each additional line. However, Internet is sold sepatately. You can choose anywhere from $15 a month for 200MB per smartphone to $25 a month for 2GB. A grand total of 6GB shared between all three phones will cost you $75, bringing you to a grand total of $243.
Conclusion: If you've got a family of 4G users who download lots of data, Sprint's Simply Everything Plan will save you potentially tons in overage charges. However, for most families, 6GB of data should be enough (assuming you have a talk about data with the teen in your house) and in that case I'd go with AT&T over Verizon. If you barely ever use Internet or if only one person in the family has a smartphone, you would do best with T-Mobile's new plan with Wal Mart. It is truly an unbeatable deal, but only if there's just one or two smartphone owners in your family.