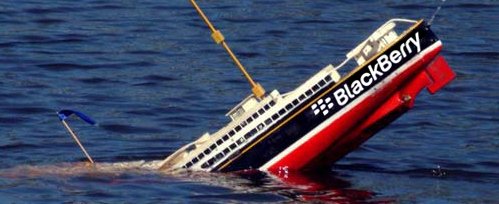 Blackberry is basically dead. As of today, the company has announced it will plan on phasing out their consumer products and focus entirely on marketing phones to businesses. This comes after a truly abysmal year for the firm, with a net loss of $125 million over the past year. Blackberry isn't even competing well with the iPhone in its home market in Ontario.
When it comes to battling Android and Apple, Blackberry has given up. According to the new CEO a turnaround at the company would require "substantial change." While the CEO says Blackberry needs to "focus on our strengths," he doesn't describe what those strenths are. In fact, while the company used to be known for their security, but even government agencies that require discretion and privacy are turning to Apple and Android for their employee phones.
It's not just sexiness where Blackberry fails. It also completely lacks the kind of app ecosystem of Apple or Android. So I suppose it's wise that the company is now focusing purely on their corporate clients, even if that list is dwindling. The company is also bleeding money, and has lost billions of dollars over the past few years, as full fiscal 2012 profit has dropped to $1.16 billion from $3.4 billion the year before.
I'm not gleeful about this; I've never been against Blackberry in any way. That said, they certainly have been slow to adapt to the new marketplace. I'm not sure what the future holds for them, or even if they have a future. The CEO is saying he wouldn't be opposed to a buyout. How do you guys feel about this? Have you ever owned a Blackberry?
(Photo: NewsTech24.com)