Blackberry PlayBook Review Roundup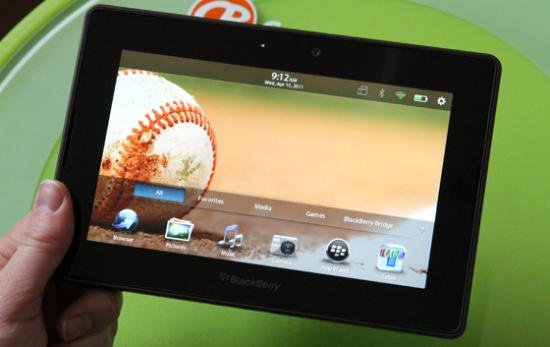 (Photo: Android Central)
The reviews for the Blackberry PlayBook are beginning to pour in and they're mixed, to say the least.
Here are a few specs to hopefully refresh your memory:
• 7" LCD, 1024 x 600, WSVGA, capacitive touch screen with full multi-touch and gesture support
• BlackBerry Tablet OS with support for symmetric multiprocessing
• 1 GHz dual-core processor
• 1 GB RAM
• Dual HD cameras (3 MP front facing, 5 MP rear facing), supports 1080p HD video recording
• Video playback: 1080p HD Video, H.264, MPEG, DivX, WMV
• Audio playback: MP3, AAC, WMA
• HDMI video output
• Wi-Fi – 802.11 a/b/g/n
• Bluetooth 2.1 + EDR
• Connections: microHDMI, microUSB, charging contacts
• Support for WebKit/HTML-5, Adobe Flash Player 10.1, Adobe Mobile AIR, Adobe Reader, POSIX, OpenGL, Java
• Size 5.1"x7.6"x0.4"
• Weight 0.9 lb
...not to mention the future ability to run Android apps.
What say the top reviewers?
Tim Stevens, of Engadget:
We have hardware that looks and feels great but isn't being fully served by the software. And, ultimately, we have a tablet that's trying really hard to please the enterprise set but, in doing so, seems to be alienating casual users who might just want a really great seven-inch tablet. Oh, and don't forget that bummer of a power button.

Right now, the BlackBerry PlayBook is a tablet that will come close to satisfying those users who gravitate toward the first word in its name: BlackBerry. Those who were more excited about the "play" part would be well advised to look elsewhere, at least until Android compatibility joins the party.
Mark Spoonauer, of GadgetBox:
It's not really a matter of too little too late with the BlackBerry PlayBook. If anything RIM's first tablet feels rushed to market. The PlayBook has a well-designed interface and plenty of power under the hood for serious multitasking. The sharp screen, high-quality cameras, and loud speakers all impress as well. However, the software was buggy during testing, there's no video chat option yet, and App World just doesn't have a lot of compelling options right now. Combine these issues with the need to tether a BlackBerry phone to get native mail, calendar, and BlackBerry Messenger, and it's hard to recommend this tablet in its current form.
Walter S. Mossberg, of All Things Digital:
The PlayBook, which goes on sale April 19, will match the prices of the Wi-Fi versions of the Apple iPad, starting at $499 for a base model with 16 gigabytes of storage—albeit with a screen that, at 7 inches, offers less than half the surface area of the iPad's.

RIM says it is planning to add built-in cellular data, email, contacts, calendar and the other missing core features to the PlayBook this summer, via software updates. But until then, I can't recommend the PlayBook over a fully standalone tablet, except possibly for folks whose BlackBerrys never leave their sides.
Doesn't look too promising.
But perhaps, since the hardware is so strong, RIM will be able to improve on their buggy, lackluster software and release a future edition that doesn't just appeal to Crackberry addicts.