[Chart] Top Selling Android Devices of 2011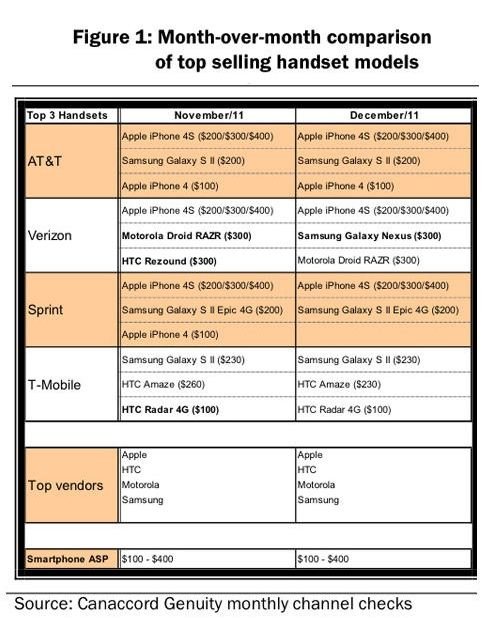 2011 was an insane year for Android. Samsung released over 25 devices, Motorola released 24 and HTC around 20. Of the dozens and dozens of Android handsets that were released over the past year, only a few posted incredible sales figures. Of course, Samsung Galaxy S2 handsets sold like hotcakes. But what other phones were this year's surprise sales winners? Read on to find out..
Month-by-month, the iPhone 4S dominated the sales charts, followed by the Galaxy S2. However, other smartphones also did quite well. On T-Mobile, the HTC Sensation dominated the playing field for almost an entire quarter before the release of the Galaxy S2. On Sprint, the Evo 3D was a clear winner. On Verizon, the Droid RAZR and Galaxy Nexus sold incredibly well despite the former's tepid reviews and the latter's disjointed release campaign.
From the release of the first 3D smartphone to the release of the Galaxy Nexus, 2011 has seen quite a lot of innovation. Let's hope we continue to see a wide range of quality Androids in the coming year.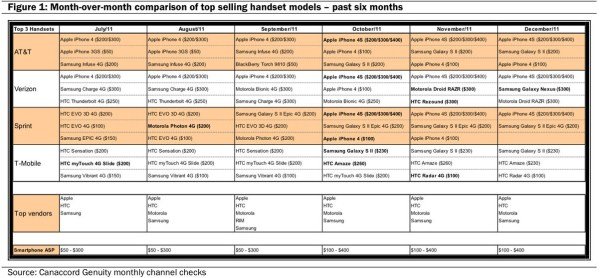 (Click for larger view)