Charting Rise in Phone Size: Won't Someone Please Think of the Pockets?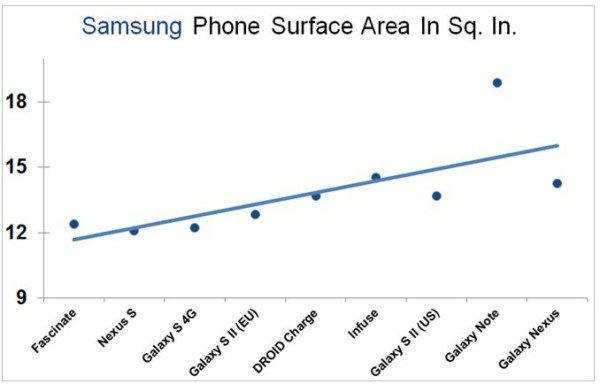 The future is here and it looks gigantic. According to Android Police, display sizes have been growing at an absurd rate, culminating in the gigantic 5.3 inch Galaxy Note, released in the UK last week. The Droid RAZR and Galaxy Nexus feature 4.6 and 4.65" displays, respectively. In total surface area, this puts the Galaxy Nexus and Droid RAZR at around 13 square inches, while the Galaxy Note tops off at 18 square inches. In other words, these are massive devices. When will our desire for huge displays begin to conflict with our desire for easily-pocketable devices?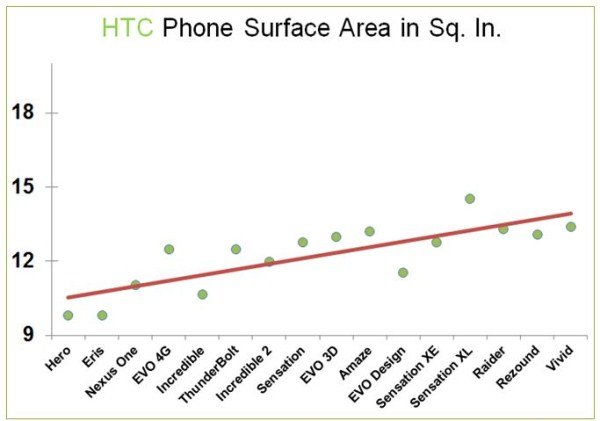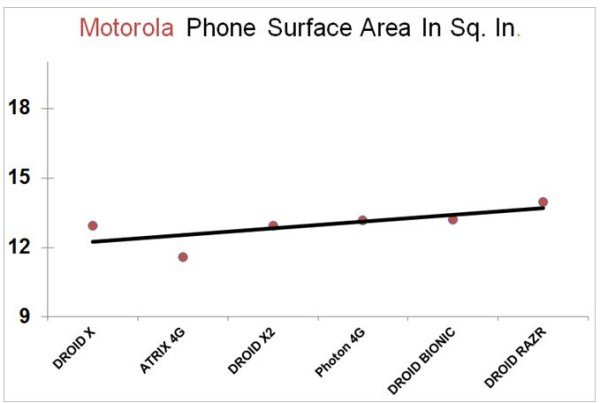 Probably not soon. Manufacturers still seem to think that bigger is better. Even though the iPhone's 3.5" display has been incredibly successful, Android manufacturers continually go bigger. In fact, it seems a 4.5" screen has become the new standard even though (according to a poll also by Android Police), many users think a 4.3 inch screen would suffice.

Thinner and larger phones have their advantages and disadvantages. Obviously, having a larger display makes gameplay and movie watching more compelling, but it can also make holding the phone in one hand a challenge. Thinner devices tend to be lighter and more comfortable in a pocket, but they can also feel too light in your hand and are easily dropped.
The ideal weight and size for a phone is subjective, but we think phones like the HTC Desire have a nice size / weight ratio. What phone size is your ideal?
UPDATE: We've just been tipped about an excellent website which allows you to compare phone sizes. Click here to take a look.