City to Roll Out First NFC 'Mobile Wallet' Program for Public Transport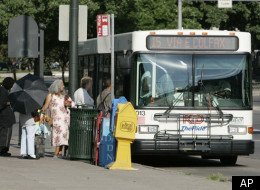 Taking the bus in Utah just got a whole lot more exciting.
Toss out your wallet. Hell, give it to me. You don't need it anymore!
AT&T, T-Mobile and Verizon Wireless are creating a program called Isis for Salt Lake City public buses that promises to make wallets obsolete. The new program will utilize a chip in your cell phone that will allow you to pay remotely for bus fare.
It works like this: First you attach a specific account of money to your cell phone – from a credit card or a checking account, for instance – and then you simply swipe the phone for purchases or to board trains or buses and the charge is automatically pushed through and paid.
Unfortunately, the chips needed to use the program are only available on about a dozen phones so far (including the Google Nexus and Samsung Galaxy), but more carriers will be rolling out adaptable phones this year. Google has been working on their own Mobile Wallet program officially since March.
Sure, this new program might make us all more liable for fraud, but let's not think about that right now!