'Dog Wars' Developers Tone Down Their Game Description After Complaints Dog Wars - the game that allows users to feed, water and train virtual dogs to battle with other players online - has been horrifying people since it was first released just a few days ago . The president of the Humane Society called the game "horrible," and Matt Peckham at Tech Crunch advocated for its removal on the grounds that it celebrates a very ugly and very real activity. "Imagine a realistic game that celebrated molesting children or sexually assaulting someone," writes Peckham. "Just because some games traffic in violent activity doesn't make anything conceivable ethically justifiable."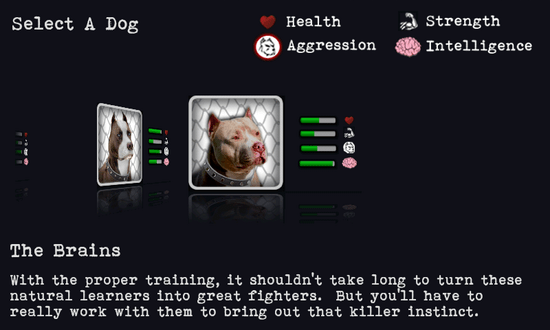 Well, the developers of the game have now toned down their game description and have issued a semi-plausible defence: it was all just satire. Get it?
We've heard thoughts from many dog and animal lovers about our app and first we, as dog owners and dog lovers ourselves, would like to thank you for your thoughts and for the work many of you do on behalf of our canine friends. We DO NOT CONDONE violence towards animals or humans, and we are confident in humankind's ability to distinguish between a rudimentary game and the consequences of real life.

We are confident this game will be a net benefit to dogs as it has been in our operating agreement from the start of this project that a portion of the proceeds go to animal rescue organizations. Further, this is a satire about the ridiculousness of dogfighting and we believe in the power of a modern media tool to educate and raise awareness of the real horrors.
Then there's another paragraph about how the proceeds from the app are "being appropriated for catastrophic human tragedies, the first of which is the Japan Tsunami relief effort"...wokka, wokka, wokka...
Hm. Satire usually involves some level of humor. Slingshotting birds that make ridiculous noises at concrete walls? Funny. Forcing pixelated dogs to kill each other just like in real life? Not so much.
We're with Peckham on this one. This app deserves to go the way of the Baby Shaking app: straight to the pixelated trash bin.