Enter The Chrome Zone: Google Goes Retail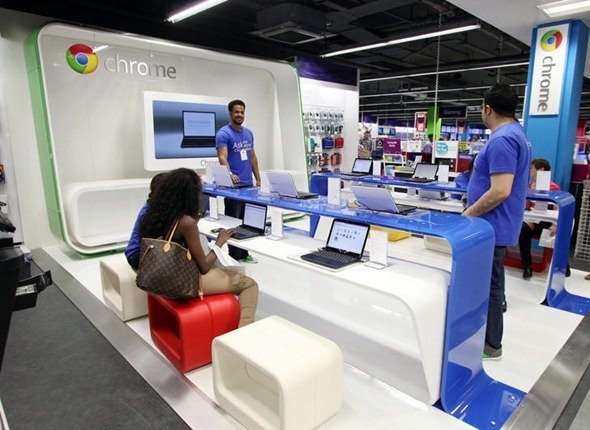 The unthinkable has just become reality. Google has opened its first retail store dubbed the Chromezone in London. That's right. Not an office, but a real physical retail location where you can "touch" Google with your bare hands. The big question on everyone's mind is what these stores are actually going to sell. So let the speculation begin!
"What are they going to sell? Ads and search terms? Google-themed memorabilia?" was the first thought that came to many people's minds. After all, Google has always marketed itself as internet-only company meant to shape our online experience without a physical presence. Motorola's acquisition was a warning sign of things to come as Google has apparently parted ways with its initial mission: to market online services and ads.
So is the Google store just a *gasp* carbon-copy of the Apple Store? Not quite. For now, the London branch is concentrating exclusively on selling Samsung and Acer chromeboks outfitted with Google's patented apps and software. But the concept stores in the UK are just part of an attempt by Google to test the waters and introduce full-blown Google shops back home in California filled with Motorola/Google phones, Android accessories and more.
Obviously, many of us are disappointed to see Google slowly transitioning from an ad-funded "people's company" to an unwieldy behemoth. From software to phones to app to computers: Google is branching in all different direction. Despite the voices of dissent among bloggers and average users, could we really blame
Google for going down that path? Companies grow and expand. That's just what they do by definition. So we'll see how big Google can get before things start turning sour.
So while Londoners can enjoy they're newly purchased chromebooks from the Chromezone, we can expect to see people standing in line to buy the next Google phone at Google stores across the country in the not-so-distant future.