Facebook Status Updating is the New Smoking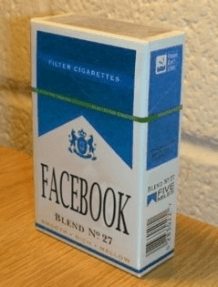 Smoking kills, but Facebook addiction makes people insane. That's what a new study by the research firm Intersperience says. The study revealed that 53 per cent of people feel upset when denied access to the Internet and 40% feel lonely if they are unable to go online.
The study was conducted with a test group of over 1,000 people. The test group was denied access to the Internet for 24 hours, which was compared by some participants as "similar to quitting drinking or smoking." Some particiapnts even went insane:
One person surveyed even said being deprived of the internet was 'like having my hand chopped off'.
This survey comes after a University of Maryland study in April that came to a similar conclusion – with students reporting adgitated, fidgety behavior, as well as feeling anxious and lonely, after giving up technology for a day.
Obviously, smoking a cigarette a day is more physically damaging than updating your Facebook status, but it seems like both acts provide measures of relief and satisfaction. Have you ever tried to cut yourself off from the Internet? Was it a glorious or wretched experience?