Fujitsu Arrows Kiss F-03D Ladyphone Commands You to Stop Slouching, Drink Some Carrot Juice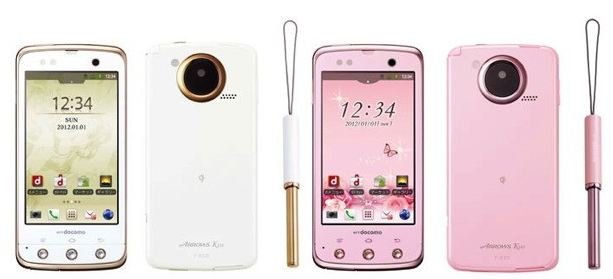 We couldn't stop making fun of the HTC Bliss when we first heard about it. A ladyphone with shopping and weight loss apps? How rude! But now that the phone has arrived and it isn't nearly as gender-specific as we would have imagined (except for that purse charm, 'natch), we thought we'd lost interest in the whole woman phone thang.
Until today...
Ladies and gents, allow me to introduce a real ladyphone, one that actually tells users their posture stinks and they need to eat more salads. The Fujitsu Arrows Kiss F-03D is a smartphone with gem-cut buttons that sparkle "like actual jewelry." It features a range of "cute and convenient," lady-specific applications, including a personal diary app for writing down thoughts, a Beauty Body Clinic app that monitors posture and a Karada Life app that gives nutritional advice.
If you can put up with such nagging apps, the phone is actually more than decent, specs-wise. It features a 1.4 Ghz Qualcomm processor, 3.7-inch WVGA display and an 8.1MP camera 'round back, as well as NFC technology and wireless charging.
So far, it's only available in Japan, which may say something about the gender-binary there...or perhaps we're reading far too much into these things. What say you?
Related:
It's a Laaaaadyphone That Likes to Do Laaaaaadythings
Low-Priced Ladyphone? Amazon Offering HTC Bliss for $79 On Contract