 [Funny Video] Beware of Samsung Infuse's Ultra-Realistic AMOLED Display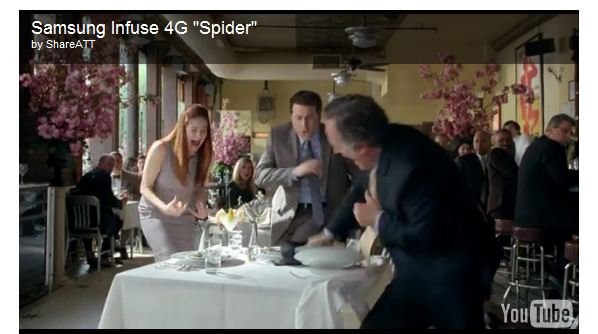 Pro tip: you might want to re-think your spiffy new cell phone's tarantula wallpaper, especially if your girlfriend is an arachnaphobe.
Such is the comedic material behind Samsung's new AMOLED commercial, which pits a hyper-releastic image of a spider against a screaming girlfriend and a father-in-law's shoe.
That scream! It's a wonder it didn't break the screen!
It's certainly a smart move on Samsung's behalf to highlight the Infuse's gorgeous--and massive! -- 4.5 inch display, which just might be the phone's greatest selling point. We're loving these commericals and hope the company keeps it coming!