 [Video] Samsung Galaxy Beam: Your Own Pocket-Sized Projector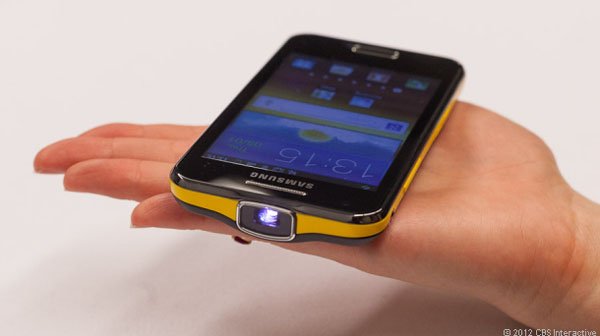 It's finally here! Samsung has just revealed the world's first smartphone projector. We've been obsessed with the idea of pico projectors for months now, so this is certainly quite a big deal for us. Imagine watching movies on your smartphone by projecting the image on to a wall. If this sounds like your dream come true (it's certainly mine), read on:
The Galaxy Beam is a 4-inch Galaxy smartphone with a 15-Lumens LED-powered, nHD projector. With the projector technology built-in, the phone looks like a slightly larger version of your typical Galaxy model (it's 12.55 mm thick and weighs 145.3 grams). The phone has decent specs, including Android 2.3, 8GB of storage and 768 MB of RAM. But, of course, the real star is the projector.
On that end, the Galaxy Beam quite literally shines. The projector is strong enough to clearly (and flawlessly) display films on a ceiling. But don't throw away your TV just yet; the Galaxy Beam really only has the projecting power to display video content with the lights turned OFF. With the lights on, images appear SUPER washed out, which is a downer but not really all that surprising: after all, it takes a much, much bigger bulb to get the kind of cinema-quality projection power we know and love.
Still, this is a very promising device and the first pico projector we've heard of that will actually be COMMERCIALLY available, meaning you could actually pocket one. No word yet on pricing but the device is said to release sometime in the second quarter of this year.
If we've piqued your interest, come and watch a hands-on video with the device below (this is the best one we've found, since all the other sites seem to have only recorded video of the projection under harsh florescent lights):