Galaxy Beam: This Has Got to Be One of the Cheesiest Commercials Ever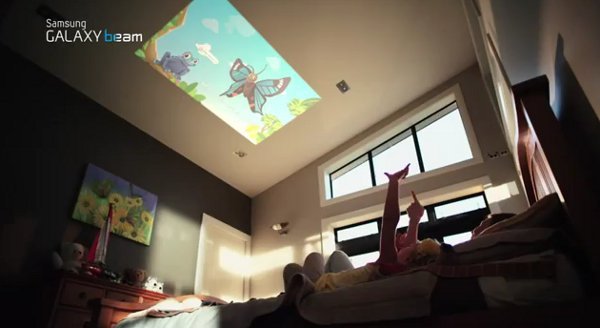 Pico projectors – which can project images and video from a smartphone to a wall– remain one of our all-time favorite ideas. So we were saddened when we learned that the Galaxy Beam, originally unveiled at Mobile World Congress just a week ago, is not really a great projector. While most home theater projectors have 1000 lumen or more, this smartphone only projects at 15 lumen, which is barely enough to see in broad daylight. Still, like a fairy tail or a concept phone, we wish we could believe the Galaxy Beam was able to accomplish everything you see it accomplishing in the two commercials below (one of which is incredibly cheesy):
That last commercial had me cracking up, with the "I love you I love you" song running in the background and the awkward wedding proposal aided by goofy projected images. Hilarious.
Anywhoozle, just to reiterate: the Galaxy Beam cannot do all that. Still, if you'd like to snag a piece of new technology, it could be fun to have, especially for the novelty factor. Full technical specs for the device below:
1 GHz CPU
768 MB of RAM
8GB ROM
4" display (480x800 pixels)
Android 2.3.7
5 megapixel camera
1.3 Megapixel front camera
Projector with nHD resolution (360x240 pixels) and 15 lumens of brightness