Galaxy Nexus in Sexy Kitchen Stress Test [WTF]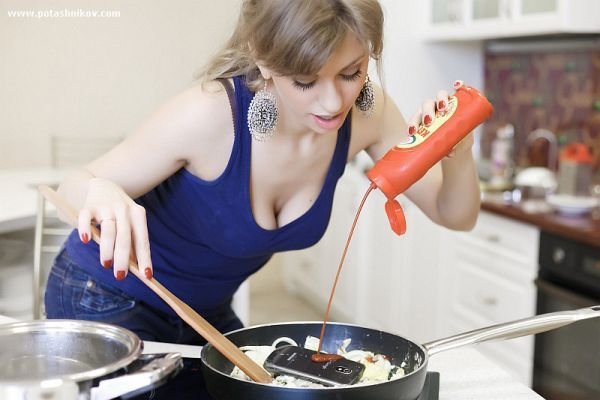 The Galaxy Nexus has been tested in terms of processor speed, camera quality and ease-of-use, but we all know the most important, unanswered question: can it survive a stir fry on a stove? In the battle for smartphone supremacy, that is the only question that TRULY matters.
Seriously, I've seen plenty of stress tests – in which websites or individuals attempt to destroy "tough" and average Android tablets and phones — but never one that tested whether a phone could be boiled alive and then served up on a plate. Seriously, people, when would this be applicable in everyday life?
It must be noted, also, that the Galaxy Nexus has no waterproof skin, nor is it meant to be able to withstand drops, bumps of serrated chopping knives. So don't try this at home, kids.
Potashnikov – the name mentioned in the corner of the pictures – seems to be a Russian photography company, with no obvious links to smartphone manufacturers. So perhaps this was simply the work of a devoted fan. In any case, she's certainly more attractive than most of the folks who test smartphone and tablet durability, but the usefulness of this particular stress test is doubtful. They say that pictures speak louder than words, but I still can't figure out what these pictures are yelling at me:

Any ideas? Let us know in the comments, we're stumped!