Galaxy Note 10.1: Everything We Know About Samsung's Next Big Tablet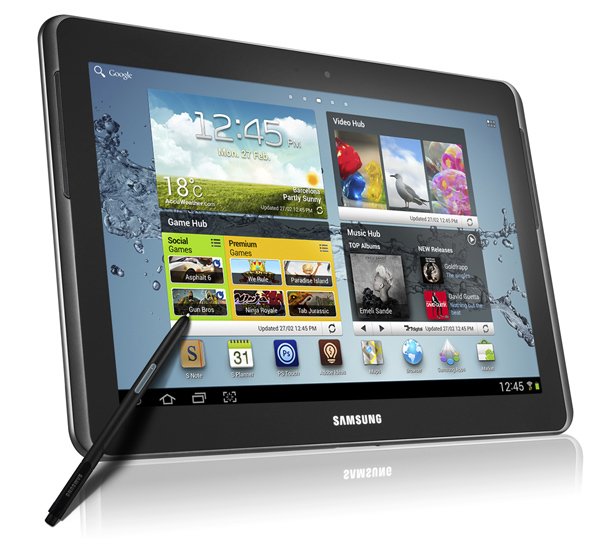 If you thought taking notes on the Galaxy Note was fun but wanted more screen for yer doodlin', the Galaxy Note 10.1 might be the tablet for you. Samsung has added an eraser to the S-Pen, extra templates to their memos and is even offering an S-Pen enabled version of Photoshop for the advanced airbrushers out there. Better still, you can use the S-Pen to navigate through the entire OS; no exceptions. But is this tablet worth the likely hefty investment? And how does it compare to the Galaxy Tab 10.1 and original Galaxy Note? We've been reading a lot of reviews about this baby all over the interwebs and here's what we've found so far:
Performance
The Galaxy Note 10.1 is said to be a bit unresponsive. Sometimes, programs take a full second or two to load, despite having a dual-core 1.4 GHz processor. This might be a drawback for some; especially if Samsung ends up charging significantly more for this S-pen-enabled device than for the similarly capable Galaxy Tab 10.1. Still, it's not as if the tablet is slow; there just may be some bugs Samsung has to work out. It's most likely just as fast as the Galaxy Note, which also has a 1.4 GHz processor.
Hardware
Most importantly, the Galaxy Note 10.1 has a faster processer than the Galaxy Tab 10.1. Now this may not mean too much, since reviewers were noticing a lag in the time it takes apps to load on this device, but if rooted it could end up being much faster. It's also faster than the ASUS Eee Pad Transformer and the Galaxy Tab 2 (10.1). The tablet is said to feel like the Galaxy Tab 10.1, but with a more reflective plastic backing which picks up fingerprints all too easily. It's also just a touch thicker. That said, both have similar design. Display brightness and quality, as well as ports, are said to be the exact same.
The S-Pen
Certainly the main reason why someone would spring for the Galaxy Note 10.1 over the Galaxy Tab 10.1 is this tablet's fancy S-Pen stylus. According to CNET, Engadget and Phone Arena, the stylus works similarly to the stylus of the Galaxy Note, but is better integrated into Samsung's software. For example, the software can tell whether the S-Pen is being used to navigate or doodle based on the user's movements, and adjusts accordingly. Therefore, you can have an uninterrupted S-Pen experience this device, without having to resort to using your finger. The extra screen space makes it easier to take long form notes without running into the edge of the screen. Additionally, Samsung has added more templates to the popular memo function and a suite of S-Pen-integrated Adobe applications.
Physically, the S-Pen is now thicker than it was before, which makes it more comfortable to use. A virtual eraser on the opposite end of the S-Pen makes it easy to correct mistakes.
Spec List (Compared to Other Tablets)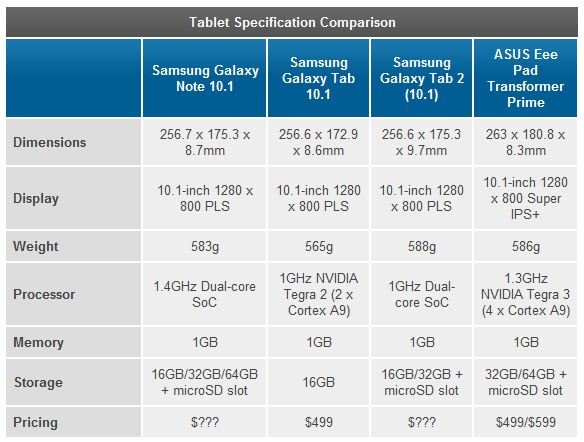 Hands-On Video
Conclusion
It's too early to tell whether this tablet will be a dud like the HTC Flyer or a star like the first Galaxy Note. Certainly it seems Samsung has improved the quality of the S-Pen experience, and the extra roomy screen should help the stylus-averse find a comfortable way to take notes, doodle and use a suite of Adobe applications. Already, folks are saying the stylus fits much better on a device of this size than on the 5.3-inch Galaxy Note. If the Note is like having a digital moleskin, this baby is like having a digital full-sized notebook. That said, it looks like despite having a faster processor (on paper) than the Tab 10.1 and the Transformer, it's still slow to open applications.